Sarojini Naidu – The Nightingale of India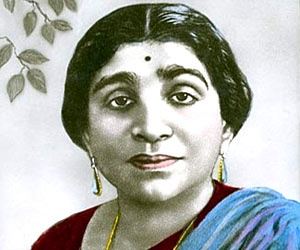 Assistant Editor
29 Oct, 2018
Sarojini Naidu Chattopadhyay, famously known as the Nightingale of India was born on February 13, 1879. She was a well-known activist and a poet. She was proficient in 5 languages; Hindi, English, Persian, Urdu, Telugu and Bengali. She was an integral part of the freedom fighting movement in India. Her contributions towards her mother land cannot be forgotten. She was a true example of woman empowerment and strength. She took birth in a Bengali family in Hyderabad. Her father, Shri Aghorenath Chattopadhyay, was a doctorate of Science from Edinburgh University. Her mother, Smt. Barada Sundari Devi Chattopadhyay, was a poet and used to write poetry in Bengali. She had a total of 7 siblings. She was the eldest among the all. One of her brothers Shri. Virendranath Chattopadhyaya was a revolutionary and another brother Harindranath was a poet, a dramatist, and an actor. She passed her matriculation from the University of Madras. Post that she took a four years break from her studies. She further pursued her education at King's College London and later at Girton College, Cambridge. After finishing off her studies, she didn't take time to get married. At a tender age of 19, she married Shri. Paidipati Govindarajulu Naidu. Shri. Naidu was a physician. Although inter-caste marriage were hardly acceptable in those days, still both of their families happily approved of their marriage. Both of them had five children. One of their daughters Paidipati Padmaja also joined the independence movement and was part of the Quit India Movement. She was appointed the Governor of the State of West Bengal soon after Indian independence. Naidu's literary career was extremely impactful. She started writing fiction at the age of 12 years. Although her father wanted her to become a mathematician, she had a dream of becoming a poet. Her 1300 lined poem bearing title "Lady of the Lake" impressed her father so much that he began encouraging her efforts and hard work as a poet. One of the Persian Plays, Maher Muneer was greatly liked by the Nawab of Hyderabad. This brought her way a scholarship to study oversees. In 1905, her first collection of poems was published under the title "The Golden Threshold". Later, her poem collections "The Bird of Time" and "The Broken Wings" were published. She also authored essays and articles wherein she raised political issues and highlighted her views on the same. She often wrote of those women related issues that required attention in the nation at that time. Her nature of writing was lyrical and musical because of which she is one of the most celebrated poets in India. She was famous for using rhymes and meters filled with rich imagery. Due to this she came to be famously known as "Nightingale of India". Some of her famous poems are as follows: Indian Weavers; Palanquin Bearers; Bangle Sellers; Coromandel Fishers; In the Bazaars of Hyderabad; Village Song. Sarojini Naidu had a very impressive political career. She was a well-known and influential woman politician. Naidu was touched by the partition of Bengal greatly. This impacted her in such a way that she joined politics due to this reason. She met Gopal Krishna Gokhale through whom she got to meet many other important people associated with India's freedom struggle. She met Mahatma Gandhi, Jawaharlal Nehru, Rabindranath Tagore and Annie Besant. Gokhale suggested her to use her intellect for the cause and she dedicated herself to politics and Indian freedom movement. By this time writing had taken a back seat in her life. In the year 1916, she got deeply affected by the condition of the farmers in Champaran, Bihar. The farmers in Champaran were forcefully asked to grow Indigo instead of the food crops that they needed badly for their survival. Naidu became the second female president of the Indian National Congress. The first being Smt. Annie Besant. She also played a very significant role in the Civil Disobedience Movement and was jailed along with Gandhi and other leaders. In 1942, she was arrested during period of the "Quit India Movement". Naidu's role in the Women's Rights Movement was very significant. She helped in shaping Women's Indian Association in 1917 with Annie Besant and others. The Association fought for equal rights including the right to vote and represent for women. She presented the need to include more women in the Congress and in the freedom struggle. During 1918, British and Indian feminists including Naidu set up a magazine called "Stri Dharma". They did so in order to present international news from a feminist perspective. She went to London to present the case for women's right to vote to the Joint Select Committee also. The right to vote got enacted at the time of India's independence in 1947. During the time period 1915-1918, she travelled to various regions in India so as to deliver lectures on women's rights, social welfare of women and nationalism. A contemporary poet, Bappaditya Bandopadhyay quoted "Sarojini Naidu inspired the Indian Renaissance Movement and had a mission to improve the life of Indian woman." Apart from being a poet, governor, politician and a women's rights activist, she won many accolades. Some of these are as follows:
(a) Kaiser-i-Hind medal by the British government – Her contribution during the plaque epidemic in India.
(b) She is regarded as the first person to hoist the Indian flag on an international platform.
(c) She was awarded the presidency of the Indian National Congress due to her immense contributions during the freedom struggle.
In the year 1949, on February 15, when Naidu came back from Delhi, she was advised rest by her doctors. Resultantly, all her official engagements were cancelled. Her health was not keeping well at all. She was ill badly. She suffered from severe headache for which bloodletting was also performed on March 1. On March 2, 1949, she passed away after suffering from a cardiac arrest at the Government House in Lucknow. Her last rites were conducted on the banks of the Gomati River. A number of institutions came up later on that were named after her in order to pay her a tribute. These are: Sarojini Naidu College for Women, Sarojini Naidu Medical College, Sarojini Devi Eye Hospital and Sarojini Naidu School of Arts and Communication, University of Hyderabad. Apart from these, the Golden Threshold is an off-campus annexe of University of Hyderabad. The building was the residence of Naidu's father Aghornath Chattopadhyay, the first Principal of Hyderabad College. It was named after Naidu's collection of poetry. Golden Threshold now houses Sarojini Naidu School of Arts & Communication of University of Hyderabad. During the Chattopadhyay family's residence, it was the centre of many reformist ideas in Hyderabad, in areas ranging from marriage, education, women empowerment, literature and nationalism. Aldous Huxley, who was an English writer, novelist, philosopher, quoted "It has been our good fortune, while in Bombay, to meet Mrs. Sarojini Naidu, the newly elected President of the All-India Congress and a woman who combines in the most remarkable way great intellectual power with charm, sweetness with courageous energy, a wide culture with originality, and earnestness with humour. If all Indian politicians are like Mrs. Naidu, then the country is fortunate indeed." In the year 2014, Naidu's death anniversary was marked as a Google Doodle on Google India's homepage.
By: Anuja Arora
Content: https://en.wikipedia.org/wiki/Sarojini_Naidu