Expert Speaks
/ Milestones of career road
Interview with Mr. Amitabh Madia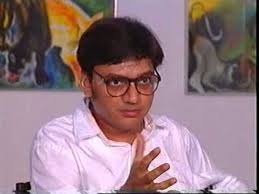 Profile- Amitabh Madia- Ediotor,Visual Artist (Painter ) , Art Historian, born in Mumbai, Amitabh Madia is an experienced painter and editor in the field of fine arts. Currently, Amitabh is working with a weekly magazine as an Assistant Resident Editor. Amitabh took his education from M.S.University, Baroda, under the faculty of fine arts. His skills and artistic talent gave him an award in terms of scholarships that he received in Oct- 1997 by Gujarat State Lalitkala Academy. He also received a Junior Fellowship Award (Visual Arts) in 1998 by the Dept. of Culture, Ministry of HumanResource Development, Govt. of India, New Delhi. Read the excerpt below to know more about Mr. Madia through our correspondent Ms. Priyanka Negi.
Is painting a very important part of your living?
Of course, it is a part of my life because that is the source of happiness for me. I would say it is the only aim that I am living for.
At the age of 16, what were your career goals do those career goals match with what you are doing today?
At the age of 16, I wanted to be a charted accounted, however, today I think it was more like peer pressure. In the entire world, no parents would encourage their children to take up an artistic career which is believed to be very dangerous because of the existence of uncertainties. I guess as per the parents perspective there are various uncertainties be it art or other creative fields. Thus, this is the biggest reason that the parents do not encourage their children to choose such goals. Though I belong to a very enlightened and intellectual family, my father was a well-known novelist in 'Gujarat'. He was one of the top most literally person in 'Gujrati Literature' still it happened with me that they advised me not to choose the art field.
What was your family's first reaction when you showed them an interest to become an artist?
As I have told you, that, in Indian families, it is very hard to convince the parents to choose a different career path. Usually, they got scared when their child shows an interest in a creative field so the same reaction I received from my parents when they got to know my interest towards painting and writing. I must add that, they aghast!
Was it challenging to pursue a career in arts and writing?
If you ask me, I believe that the real appreciation for real talent exist very little. I would like to add that not patronizing the talent of the gifted artist is the biggest issue that bothers me a lot. See, it is very calculative business when the society and the patrons appreciate the people with latent then only they can get something in return, so yes according to me respecting the talent is necessary and important.
Do you agree that painting require a certain level of inspiration?
Yes, of course, every artist needs the inspiration to create something; I hope you will agree that when an artist draws something on the canvas that depicts their thinking or their understanding of the world. Today, we see a variety of art a work of different painters and artists that are only possible with a magic stick called 'Inspiration'.
What is the key difference between fine arts and visual art?
There is very thin but important difference between Fine arts and visual arts. Fine art is static art where as visual art is a dynamic field it can be a movie, theater or stage performance, where the visuals keep on changing within the same art work. On the other hand fine art includes painting on canvas or paper as well as sculptures that are static art. Additionally, all fine art is visual art, but that all visual art is not necessarily fine art.
During your journey as a painter or artist what was the most inspirational moment you faced?
It is very difficult for me to pin point a single moment of inspiration. I would like to say that I always get inspiration from within. According to me, everything on this earth is an inspiration for an artist it can be the nature, children, even the huge buildings that you see in the urban areas.
How students can achieve their aims to become a successful artist?
One should always be faithful towards their dreams. Whenever, you are under a dilemma, listen to your heart, focus on whether to choose it or not. There is one more important thing that the students can keep in mind that they should choose their career path according to their heart not according to the worldly perspective.
Would you like to advise those students who want to become an artist?
I would like to advise all the students that the path is difficult but not impossible. Students who are willing to become an artist need to be faithful towards their heart. They should always follow their dreams and passion.