Expert Speaks
/ Milestones of career road
Interview with Mr. K.V.Gautam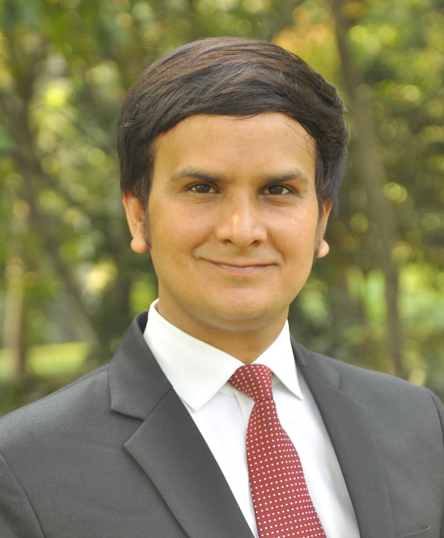 K.V.Gautam is a professional cartoonist who honed his craft from a very early age. He is also a motivational speaker and an author based in New Delhi. He has worked as a political cartoonist for leading newspapers like Hindustan Times, Dainik Jagran and Indian Nation. A self-taught cartoonist, he got his cartoons published in several journals including fortnightly Khojbin and monthly Cartoon Watch, while he was still in school. Let's dig in more into his life and ideology through our correspondent Anubha Das.
When did you know that you wanted to be a cartoonist?

I was determined to become a cartoonist when I was in my 10th class. I started to draw even before I started to write.

What kind of response did you get?

When I informed my parents about my decision they were confused. They did not know if there was any career option to become a cartoonist and earn money by drawing cartoons. My father wanted me to take up a government job like him. My friends were also not sure and many of them were not aware about career options in the field of cartooning. My parents become supportive only after my cartoons published in leading newspapers.

Who inspired you the most in your school days?

I was inspired by the legendary Indian cartoonist R K Laxman. When I was in 5th class I used to see a newspaper shop on the way to my school. One day I saw a newspaper hung upside down with some fine drawing on the front page. Whenever those drawings appeared I used to buy the newspaper using my pocket money. I did not understand the purpose of the drawings but I used to admire the fine drawings. Sometime later I understood that the drawings were political cartoons drawn by R K Laxman in the Times of India newspaper. This also started my habit of reading newspapers and improving general knowledge and political understanding.


What is your favourite cartoon character?

The Common Man created by R K Laxman


What do you do when you face rejections?

Rejections are part of life. We should not expect to be liked by everyone. Some people like you and some don't. As far as failure is considered, I feel failures teach us more than anything else. We
should take failure in the right perspective. We can improve ourselves and turn a failure into a success. No failure is final and no success is permanent. Improving ourselves every day is important. Failure should be taken as foundation of our success.


What is more important to you---style or idea?


Idea is the soul of any cartoon and is the most important part of it.


Do you advise students to take up this as their career?

These days' youngsters can have careers in the field of cartooning in many ways. They can opt for the animation industry, or can work in a newspaper or magazine as a cartoonist. These days many websites also use services of cartoonists. It's important to be good in your art work to start a career. One should know how to draw well and one should also have good knowledge of the world and society. Besides that, one should have a good sense of humour.

One should choose this as a career if they are passionate about it. The career of cartooning can give lots of fame too. For example, I have been invited to speak at high profile events like TED. Someone
made a documentary film on my life as a cartoonist and the film was screened at 16 international film festivals. Recently I was invited to become a participant in the high profile TV show Bigg Boss. Even if I rejected the offer I got huge publicity from mainstream media and TV channels.


In your opinion should drawing or arts be made mandatory in school curriculum?

I would not recommend it to be made mandatory as some students may not have any interest in the drawing art. We all are born with different talents, and forcing one form on all of us is not fair.
However, it should be noted that drawing is a very good expression of creativity, and creativity is required in success of any field.

Understudies nowadays are very much involved in art yet guardians support are missing, what do you have to state on this?

I understand that parents are mostly focused on earning capacity of any career option. Few decades back India mostly had government jobs or medicine or engineering as viable career options. However, these days there has been explosion of new career opportunities and youngsters can make good career out of any art form. Many cartoonists have earned good amount of money and fame in their careers. It should be noted that jobs for cartoonists are limited in big cities.

Is there any particular course related to this profession?

We do not have any good course in India on cartooning. I have organized cartoon workshops at IIT Kanpur, Anna University, BITS Pilani, VIT University, Delhi University and IIT Delhi. I see many students keen to learn this art form. I keep getting requests from many people to teach them this art form. However, I feel there is no good institute to teach the art of cartooning in India. Most
cartoonists are self-taught. Even I am a self-taught cartoonist.


Do you think that this career path leads to nowhere after a few years of glory?

No. There are many fine cartoonists who have long careers.


What institutes do you advice?

Students can opt for Sir JJ School of Arts. This will give them a good understanding of art. Thought it is not for only cartoonists.


Do you feel that mentors should be more than trainers in today's education system?

Yes.

What do you plan for your future?

I want to spread the art of cartooning even more. I also want to conduct more cartoon workshops to ensure more young people get interested in this amazing art form.