Interview with Ms. Gargi Malik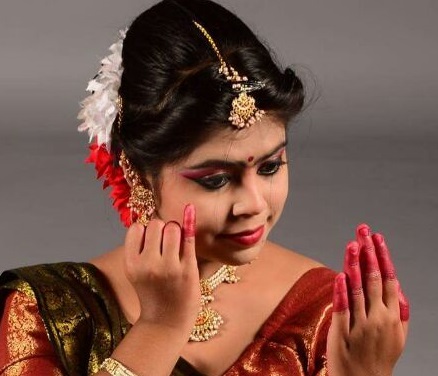 Ms. Gargi Malik has been dancing since she was a child. Coming from Kolkata, the city famous for its culture, she imbibed in herself the love for dance, quite deep. Gargi believes that dance is a form of therapy and meditation that keeps you calm and composes. She has her dance school in Kolkata and loves guiding children through their dance journey. Read the excerpt below to know more about Gargi through our correspondent Ms. Srishti Anand.
Out of all the dance forms what brought you to Kathak?
I started Kathak when I was 4 years old. It's obvious that I was new to the field and during those days neither me nor were my parents aware about Indian Classical dance forms. My mother is a singer and father used to play Tabla. And naturally there was a musical atmosphere in my home. So, one fine day, my mother took me to a dance class in our neighbourhood and got me admitted in the class and hence my journey of dance began.
Then after few months I tried a short stint of Bharatnatyam for 6 months, but I realised that Kathak is my forte and the charm and beauty of Kathak took me to its never ending world of learning.
Calcutta is a place where people love dance and music, did coming from Calcutta also play a role in you taking up dance?
Definitely, as I strongly believe that your whole nature, lifestyle and interests develop from your surroundings. I am blessed to get such an atmosphere. My father has a transferable job so I am fortunate enough to be in different places and get in touch with their culture. But frankly speaking, what I got from Bengal,I didn't get such enthusiastic atmosphere anywhere else. This is one of the biggest reasons why I love dance this much.
Once I stepped out from my hometown, it was tough for me to mould myself single handledly in a totally unknown culture and atmosphere. But as I mentioned, it was in my blood. It took me hardly a month to make a viable cultural surrounding around me. I met many kathakars and other artists from different cultural backgrounds and I was never detached from my roots.
I believe you started learning the form at a very early age. Was it difficult to cope up at such a small age?
Yes I started at a very early age. My Guru, Ms. Sreemoyee Khasnobis was the reason I am on this platform which is giving me a chance to become a part of your organization. Normally it is never very tough for a child to cope up with any difficult situation and moreover it was my interest area so without even knowing I was into it. My Guru is the biggest inspiration for me. If you have interest and love for your passion no matter what the circumstances are, nothing can stop you.
Will you advise students to follow dance, specifically Kathak as a career option?
No, I will advice students to make it their passion not profession. You need to be practical, in India you need to have a definite career path to carry forward your life smoothly. Classical dance forms have a niche segment of audience and rest of the huge population is mostly unaware about the classical forms. It is better to love dance and do it with passion and carry forward our ancient art with respect. The moment you will make it your career, firstly, there is no such huge earning in this line and secondly, people become money minded and it loses its beauty. Dance is a prayer towards God, and materialistic mind cannot allow a devotee to devote fully towards this.
Who do you look up to? Who inspires you to become a better version of what you are right now?
My all-time inspiration in dance is my Guru, Ms. Sreemoyee Khasnobis. She says that if you want to be on top, place the best person on top. Once you aspire big then only you can achieve it. She is not only my Guru; she is my friend, guide, guardian, and adviser. I respect her as much I respect my parents. In fact, both my parents and my Guru are the reason for me to excel in this field. If you are extremely talented but you don't have a supportive family you can never shine. My parents never stop me to develop my talent, which was built by my Guru. I can never put words as my respect and love for my Guru.
What are the basic qualities of a good dancer?
Basic quality is love and respect for art. You need to have that passion for dance. If you want to do it only because of peer pressure then it won't work out. You need lots of patience to learn classical dance forms. And dance itself gives you grace and calmness in your personality. One can easily find out the difference between who is attached with the art and who is unattached to it.
It is said that dance is a way to reach to your inner self. Do you believe that?
Of course I believe this. You are directly connected with the divine power. Dance makes you more stable and gives you a very mature thought process. You become more creative in your imagination. Kathak is a visual beauty. The bhaw, bol, tatkar, and many more mesmerizing items are there to create a garland of art. Dance always speaks more than words, and that is what I believe.
What would be your advice to an aspiring dancer?
I am just a beginner in this universe of art. I cannot give any such advice, but I can only say love and respect your passion. Always be true with your art. A true artist is always close to the divine power. And most importantly, learn patiently and respect your guru. Worship dance, and you will be rewarded by the best.
Has dance helped you improve personally? How?
Dance is the only reason for all of my little successes across different genres. It helped me to be strong in hard times and also helped me to stay calm and stable in the exuberating moments. I always say to my students that one must be connected with at least one art form except education because its helps to excel and increase concentration. I never stopped dance classes while my board exams were going on or during my master's final year. I was the university topper in my batch but I never thought I should drop dancing during examinations.
How do you prepare yourself before a performance, both physically and mentally?
I touch the feet of my Guru and if she is not there I always give her a call and I also call my parents. Stage is the place which belongs to me and I know that well. So, I feel relaxed before going on stage. But I always feel scared just the moment before I step on the stage. But once I am there I am totally into me and audience is God for me. I just pray in front of my God and rest is taken care of.