Cook Without Fire: Easy Non Fire Cooking Dishes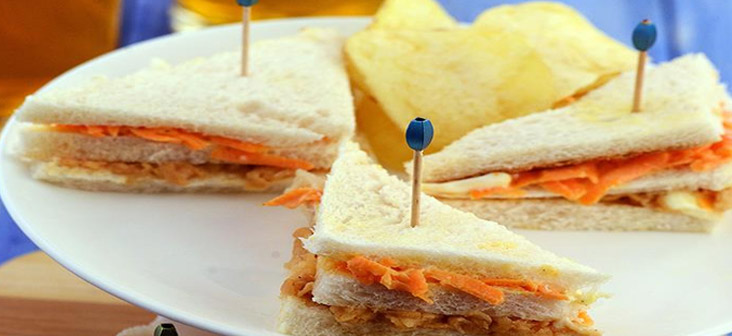 Assistant Editor
29 Jun, 2019
Having a little child around, normal cooking with fire can be challenging as your attention is always diverted. For such situations, it is advisable to cook easy nonfire cooking dishes to mitigate any risk.
The best part of these recipes is that they are healthy, really easy, and quick, and can be made when needed.
You could cook these easy recipes along with your kids and make a day out of it with no risks attached. Also, your kids will develop their cooking skills gradually and be less dependent on you.
So, let's try these recipes in the evenings to make eating and cooking a lot more fun.
COOKING WITHOUT FIRE
1-Russian Eggs/Stuffed Eggs
Ingredients: Some boiled eggs, sweet pickle relish, and mayonnaise
Recipe: First cut the boiled eggs vertically into two halves. Scoop out the yolks from the egg and mix it with the mayonnaise and sweet pickle relish.
Recipe for sweet pickle relish
Ingredients: 4 cups chopped cucumbers, 2 cups chopped onions, 1 cup of green pepper chopped, ¼ rth cup salt, 3 and a half cup sugar, 1 tbsp celery seed, 2 cups cider vinegar, 1 tbsp mustard seed, 1 cup chopped sweet red pepper.
Take cucumbers, green and red peppers, onions in a bowl and add salt to it. Pour some cold water, cover the bowl with a lid, and let it remain for two hours. Drain the vegetables thoroughly by pressing them hard. Take a saucepan and add mustard seeds, celery, sugar, and vinegar and bring it to a boil. Then add drained vegetables to it and let it cook on low flame for 10 minutes. Transfer it into a glass jar leaving 1/4th space from the top.
2-Strawberry Crackers
Ingredients: Strawberry's, plain biscuits, and fresh cream
Recipe: Cut and mix the strawberries with the fresh cream and then spread it on the biscuits and your strawberry crackers are ready to eat.
3-Milk Shakes
Ingredients: Milk, sugar, the fruit of your choice, and yogurt
Recipe: Take some milk, yogurt, any fruit, and sugar and blend them. Your yummy milkshake is ready to drink. These shakes are very nutritious, filling, yummy, and not to mention- easy to make! You can also add dry fruits to make a yummy and healthy dry fruit shake
.
4-Lassi
Ingredients: Milk, yogurt, sugar/salt, pepper, and cardamom
Recipe: For making lassi, you will require taking a good amount of yogurt and adding it to milk. Then add in sugar and blend it well and your sweet lassi is ready to serve.
You can try different flavors by adding mango or some other fruit of your choice to it. You can also add some spices like cardamom, nutmeg powder, or cinnamon to give your lassi a delicious twist. You may also make a salty lassi by adding some salt, cumin powder, and little pepper instead of sugar.
5-Sandwiches
Ingredients: Whole wheat bread, butter, cheese, sauce, cabbage, capsicum, tomatoes, onion, and cucumber
Recipe: Take two loaves of wheat bread and on one loaf put a layer of sauce or butter, then top it up with a cheese slice. Add in some chopped vegetables of your choice like capsicum, onions, cabbage, tomatoes, and cucumber. Sprinkle some salt and pepper and your sandwich are ready to be served. You can twist it by using mayonnaise or mustard sauce.
6-Fruit Chaat
Ingredients: Chopped fruits, pepper, lemon, sugar, chaat masala, salt, and black salt
Recipe: Nutritious fruit chaat is loved by all and at any time. Just take some chopped fruits like bananas, strawberries, apples, grapes, oranges, pomegranate, etc, and just mix them. Now add in some salt, little sugar, chaat masala, pepper, and a few drops of lemon to it. Your delicious lip-smacking fruit chaat is ready to eat.
7-Biscuit Cake
Ingredients: Marie biscuits, butter, milk, sugar, and chocolate sauce to garnish
Recipe: Blend about 10 Marie biscuits in a grinder until you get a fine powder. Then in a bowl, add powdered biscuits, chocolate sauce of your choice, half cup milk, 4 to 5 tablespoons of sugar, and 2 tablespoons of butter, mix these ingredients well with a whisker.
Now, put this mixture in a baking tray and let it sit. Deep freeze the tray for 20 to 25 minutes and then transfer it to the refrigerator for about 1 hour or so. Now cut it into pieces and sprinkle some powdered sugar and serve cold.
8-Lotus Seeds or Makhane
Ingredients: Ghee, pepper, salt, lotus seeds or Makhane
Recipe: Take a flat microwave-safe plate and apply a butter lining or spread a thin layer of ghee all over the tray. Put lotus seeds in it and heat them in the microwave for one minute. Sprinkle some salt and pepper and mix it well and your delicious crunchy snacks are ready to be served.
9-Milk Poha
Ingredients: Poha or flattened rice, milk, water, salt, pepper, grated coconut.
Recipe: This one is a popular Maharashtrian dish. Wash the poha well with water and soak it in water for about half an hour, it will become soggy. Then add in some milk, salt, and pepper and now it is ready to be eaten. You can add some grated coconut to it as well.
10-Shrikhand
Ingredients: Hung curd, cardamom, and sugar.
Recipe: Shrikhand is a delicacy and it can be made with little effort. Take the hung curd and add some sugar and cardamom powder to it. Mix it well until you get a fine paste without any lumps. Now refrigerate it for some time and your delicious Shrikhand is ready to be served.
12. Bhel
Ingredients: Chiwda, tomatoes chopped, chopped onions, chaat masala, coriander, salt, pepper, peanuts, chopped red chilies.
Recipe: Bhel is a very popular Gujarati snack and is very easy to make. Just take a cup of Chiwda and add is some roasted peanuts, chopped red chili, chopped coriander, chopped onions, a few drops of lemon, and some salt. Your delicious bhel is ready to eat.
11-Dal Sprout Chaat
Ingredients: Dal sprouts, grated carrot, coriander, chopped onions, salt, pepper, green chili if needed.
Recipe: Add some finely cut onions and carrots to your dal sprouts. Then put in little coriander, pepper, salt, finely chopped green chilies to flavor, and just squeeze in a few drops of lemon. Your delicious chaat is ready to be served.
These are some of the best cooking without fire recipes for you to try out at any point in time. These recipes are simple and easy to make and your kids will love to help you with these recipes. Just by tossing a few things together, you can come up with great recipes.
By: Aishwarya Sharma
Content: https://m.tarladalal.com/recipes-for-cooking-basics-no-cooking-veg-indian-282?pageindex=1