Affordable Healthcare in India: Yet to be a Reality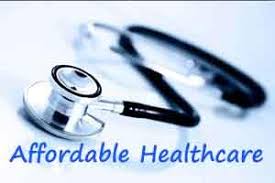 Assistant Editor
06 Jun, 2019
Wonder how the early human took care of their health? We mostly assume that those ancient humans were inferior in intelligence and accomplishments, more so when it comes to ancient medicine and health care. Though there were many areas in health care that they were lagging behind but in some cases the philosophies and methods of healthcare were strikingly sophisticated for those times. The ancient Egyptians were as similar as our modern day healthcare system. In Deir el-Medina, an ancient village, archaeologist found the evidence of written records and the remains that revealed the evidence of first documented governmental Healthcare system.
India, a country of rich heritage and culture and has been a cradle to ancient civilizations. Surprisingly ancient Indian medical philosophy shares lot in common with that of the Greeks. The Greeks believed that "health like democracy is equality of rights, the total balance of forces in our body, fluids, dry, bitter and sweet makes for a healthy body. The same kind of concept is followed in Ayurveda the ancient Indian medicine system. According to Ayurveda the human body is composed of four basics, the Dosha, Dhatu, Mala and Agni, which regulates a healthy human body and any imbalance in any one or more of these may result in poor health.
What is health? The efficiency of a living being with complete wellbeing of physical and mental condition can determine the health of an individual. Health is not merely absence of disease or infirmity but a state of social, mental and physical wellbeing in an individual. When we talk about physical health we are stating the absence of disease in the body whereas mental health refers to how an individual is behaving with respect to emotional wellbeing, one's ability to appropriately express their emotions, their ability to learn, and their ability to have meaningful social interactions and connections. When an individual exhibits physical, emotional mental/intellectual, social, environmental and spiritual wellbeing we can say he/she is a healthy person. Environmental, behavioral, social, cultural, economic, and political background are some of the factors that influence health of any individual. Lack of knowledge and information, poverty, denied access to basic health service and poor environment are major cause of poor health conditions. Good health is required for any individual to live life joyfully. A society full of healthy people will contribute to a healthy nation. However, in today's world because of our lifestyle changes, genetically modified food, preservative content on food, irresponsible eating habits, drug abuse, genetic conditions etc are reasons why people are often falling prey to common lifestyle diseases and other life threatening ailments. This is when allopathic medicine, biomedicine, mainstream medicine, orthodox medicine, and Western medicine come into picture. There are also various types of alternative medicines available namely Ayurveda, Acupuncture, Homeopathy, Naturopathy or Chinese or oriental medicine.
Coming down to healthcare in India and more importantly affordable healthcare remains to be a major dichotomy. On one hand India is considered as one of the most sought after destination for medical tourism due to low costs and relatively high quality of services provided by the private sector hospitals. The Government of India also regards healthcare as primary objective in its plans and promotes awareness and as a result the country has experienced remarkable improvement since independence.
However, when we delve deeper it is found that this achievement is not even at par with other developing countries like Nepal, or Bangladesh. Half of the Indian female population is anemic or suffers from many deficiencies. Apart from this most important area that needs to be corrected at the earliest is the vast difference in availability of healthcare facilities in urban and rural areas, as well as the rich and the poor, despite all the ambitious governmental policies that are devised and to a large extent implemented. There is such a great disparity between different states for example, according to statistics the lowest infant mortality rate is that of Kerala followed by Mizoram and Karnataka in second place while Bihar, Uttar Pradesh Assam and Orissa are deemed to be worst states to be born in. The picture is pretty grim with 30% of the population not having access to primary healthcare facilities and due to the ever rising medical expenses, specially with government hospital not able to meet the demands and the sky rocketing charges of the private sector hospitals about 39 million Indians fall below poverty lines yearly owing to healthcare expenses, specially people who suffer from life threatening diseases. 30% of the rural population do not visit hospitals and suffer due to the fear of expenses and 47% of rural population and 31% of urban population in times of need end up either taking loans or selling their assets to meet their medical emergencies. Apart from this about 70% of Indians are compelled to spend a great part of their income on healthcare and drugs. We are yet a long way before universal healthcare becomes a reality. While health facilities in the metros are now compete with the world's best, but sadly only a very small percentage of population can afford them and this is a very sad and discouraging reality.
Though it is an uphill battle but the government of India is taking up necessary steps to ensure a healthy nation. An unhealthy population is detrimental to a healthy prosperous nation.
"Healthy India, Prosperous India", has become a well reflected point in the 2018-2019 budgets, with the launch of Ayushman Bharat Yojana or Pradhan Mantri Jan Arogya Yojana (PMJAY) or National Health Protection scheme. This scheme is aimed at addressing the healthcare system of our country holistically, in its entire sphere, primary, secondary and tertiary care system and with the aim to cover both prevention and health promotion.
The Government is also working its way towards the main goal of Universal Health Coverage. The UHC or the Universal Health Coverage, a flagship programme of the World Health Organization for the South-East Asian region, which is now a global priority and World Health Organization has made it a priority to keep a check on the healthcare schemes of India to ensure that it is able to make the Universal Health Coverage a reality.
There are few other schemes that have been launched as follows;
1.RashtriyaSwasthiya Bima Yojana (RSBY): for a registration fee of Rs.30.00 paid by beneficiaries who are families below poverty line are entitled for a cover of 30000 as health expense mainly for hospitalization. While the beneficiary pays Rs.30 the rest of the premium is paid by the State and the Central Government to the Insurance provider.
2.Central Government Health Scheme (CGHS): This scheme provides comprehensive healthcare benefits to all central government employees and their families. This scheme allows beneficiaries to avail treatment from various streams of medicine like Homeopathy, Yoga, Ayurveda, and many others from different wellness centers that have been established under this scheme.
3.Employment State Insurance Scheme (ESIS): The ESIS works to ensure the worker population along their families' medical expenses and also cash benefits in case of an employee suffers from any temporary or permanent injury.
Though the government is working towards making healthcare affordable, however, most of the schemes aim at the very lower segment of people who are living below the poverty lines. The wealthy can afford to get the best of healthcare within the country or abroad but unfortunately the middle class despite all the schemes remains bereft of any health insurance coverage. This segment still struggles to insure their families from private insurance companies who charge a hefty premium, but their problems are still not taken care of as none of these Insurance provide and OPD coverage. So until a patient is admitted in the hospital for something this insurance is of no use. For every other common ailment these people even though insured end up paying from their pockets for their treatments. This Private insurance sector needs proper regulation so that people get benefited during times of need rather than getting fleeced.
It will take great determination, practical approach and dedication to really make Universal Health Care in India a reality.
By: Madhuchanda Saxena