Procrastination-Delay in Work: A Big No No!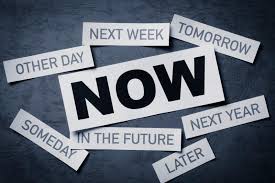 Himani Goyal
22 Jul, 2016
Procrastination is the tendency to postpone things because of avoidance, denial, distractions and laziness. Doing a particular thing, say, spending time on social media, among many to be mentioned, seems more interesting than completing a particular task which is more important or urgent.
It is okay to procrastinate things to some extent, but over procrastination can lead to health problems. One can be prone to stress, anxiety, restlessness, sense of guilt and even loss of personal productivity in the long run.
To avoid procrastination, one can undertake following measures.
Don't think of any task as something really big, break the task into small sections so that the mere thought of starting on it doesn't scare you off.

Allot a section of your day to do such assignments. Make a list of all the major distractions and stay away from them in that time slot.

Set targets such as, you would respond to messages after completing a small part of the whole assignment. That will motivate you to complete it quicker.

These practices will relieve you from the major cause of procrastination. The thought of considering something too complicated to achieve should not overcome your mind. The most difficult step is to give it a start, once you start it, you won't even realise and might end up completing the task earlier than expected.