Farmer's Income: Will India Be Able To Double It in Next 5 Years?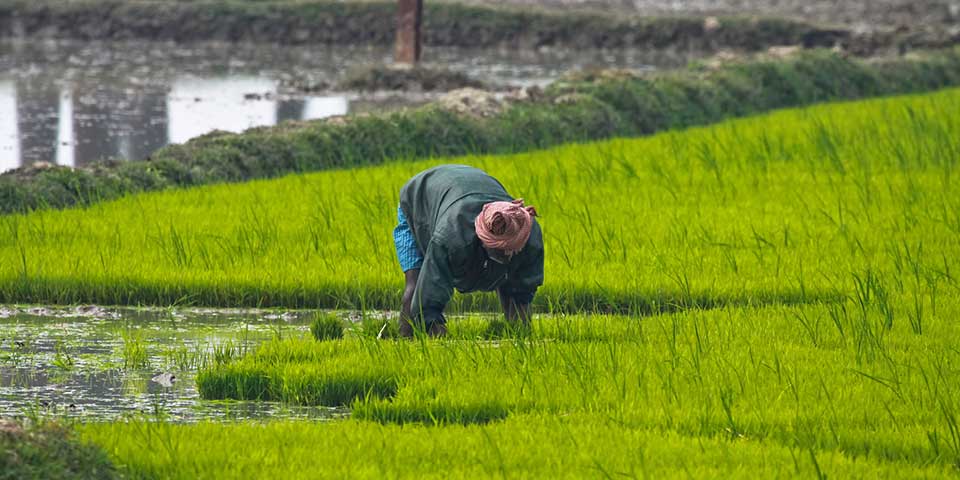 Assistant Editor
10 May, 2019
Indian Economy is agriculture based, which needs high agriculture income for the farmers who feed the population of about 1.25 billion. Developed countries despite having lesser area under cultivation, export number of farm products; and India also needs to be a leading exporter of agriculture produce. This will attract more people towards agriculture, which is the backbone of the country.
But how to achieve the dream of increasing the farmer's income is a big question. The Prime Minister of India Mr. Narendra Modi, in his speech on August 15, 2017 laid out the route map for doubling the agriculture income in next 5 years.
Key points: The road map
The government has decided to double the farmers' income by 2022 when India will celebrate 75 years of Independence.
The goal can be achieved if farmers adopt and use modern technology in cultivation like drip irrigation.
Centre announced to double farmers' income by improving technology, use of solar light, increasing milk production, and honey production.
Increase afforestation by planting more trees along the river banks for avoiding soil erosion during floods and keep the rivers flowing eternally without getting dry.
Niti Aayog has given 'Three Year Action Agenda' a plan that covered till 2019.
The measures are in the right direction and the 4 point action plan includes the following: Lucrative prices for farmers by reforming the existing marketing structure; raising productivity; reforming agriculture land policy; and relief measures.
A subsidy provided on targeted produce. One advantage of this is that it would spread price incentives to producers in all the regions and all the crops considered important for providing price support.
As per the Census 2010-11, 67.10% are marginal farmers, followed by small farmers at 17.91%. Since Indian agriculture is has more marginal farmers, raising productivity is likely the single most important factor if incomes are to be doubled.
Niti Aayog called for investment in irrigation, seeds and fertilizers and new technology coupled with high-value commodities such as poultry, horticulture, and dairying.
A major part of farm subsidies is accounted by India's fertilizer subsidy that has increased by around 5 times in the last ten years from Rs 12, 595 crores in 2001-02 to Rs 67, 971 crores in 2012-14.
Income to increase with Israel model
The government's aim is to double farmers' income by utilizing the Israeli model. Israeli agriculture and irrigation technologies can help in achieving this goal. Their technology is vital for this aim and thus encapsulates the government's thinking on how to raise agricultural productivity.
What is Israel model?
When Israel was founded in 1948 it realized that it was severely water stressed, 60% land was desert and the annual rainfall received was 50 cm. There are no rivers or any chance of water sharing in neighborhood. Rainfall is half the level of 70 years ago while the population has grown 10 fold. Israel then came up with innovative water solutions to increase its agriculture production with the scarce water it has.
Centralized Water Management
Israel needed to find a solution to the crisis and the result was a centralized water management grid that was developed to make maximum use of water. The major strategy is drip irrigation, instead of flooding fields; water is delivered directly to the crop/plants roots in less quantities.
Indian Agriculture far behind
Only a small part of Indian agriculture is irrigated through canals and the canal network is most extensive in North India, particularly in Punjab, Haryana and Northern Rajasthan, and relies on excessive use of water, that leads to water stress and overuse.
The farmers think that if more water is delivered to their fields, higher will be the productivity. This attitude is challenged by changing water patterns due to overuse and climate change.
Israel Technology can help
This is where Israeli technology can help by following the strategy:
Middle Eastern nation recycles 90% of sewage water and the recycled water is then used for agriculture.
Plants have been engineered such that they grow in arid conditions and sea water is desalinated for human use.
Israel's government has committed Rs 500 crore that may match Indian Government to adopt the model and increase income with less expenses and optimum use of water.
Hurdles
One of the main problems is the small size of land holdings.
Agricultural growth, barring a few years, has been stagnant in the post-reform period and has failed to meet the target that were set by the government. For example the average annual growth rate in agriculture and allied sector during the period from (1991-92 to 2013-14) comes at 3.2%, lower than the targeted 4%.
Niti Aayog has suggested marketing reforms and minimum support price (MSP) reform. It has to be seen how the suggested reforms will double the income and to what extent the government is serious about it.
On one side resources like water and land are limited and on the other land holding is getting fragmented, the problem is further worsening by rising input costs.
Action taken so far
The government and NABARD are keen to propel farmer-producer companies, where group of farmer's pool their land together and work collectively.
Maharashtra asked the Israeli Consulate in Mumbai to prepare a plan in Dehni village in Yavatmal district.
India has adopted drip irrigation in some parts of Gujarat, Maharashtra, and Haryana. An article in 2010 in Forbes India reported that the Israeli firm Netafim, the micro-irrigation company, transformed its Family Drip System (FPS) for mainstream farming in India.
Indian and Israel governments hope to take this partnership forward.
Conclusion
Doubling agricultural income by 2022 is a huge task but is also one that is crucially needed. With majority of the population dependant on agricultural activities, no development can be said to be meaningful unless it includes the needs of this sector. Increasing farmer suicide rates and erratic weather patterns further add to the problem. There are intense difficulties and therefore, the focus of the government on this sector is much needed.
By: Aishwarya Sharma