Exclusive Interview with Bollywood Singer Mohammed Vakil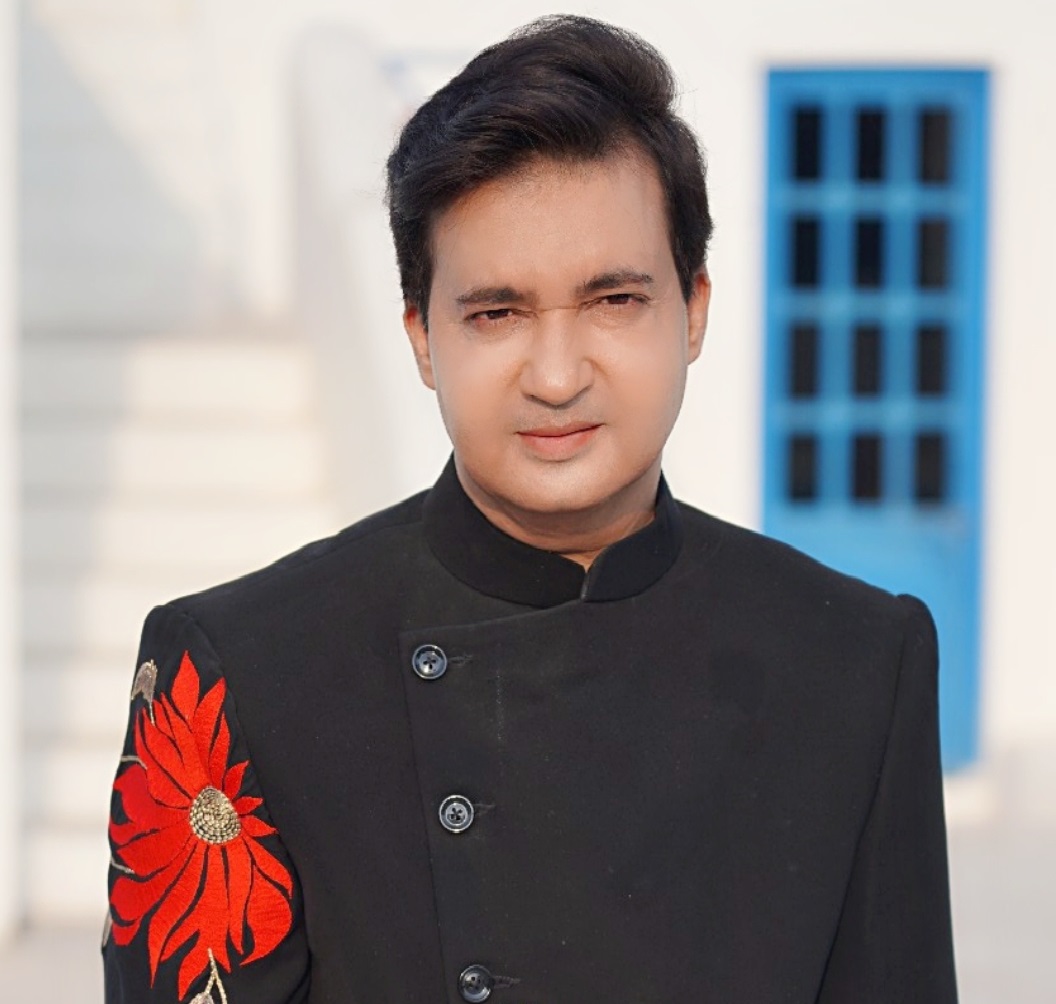 Bhavna Sharma, Editor
22 Jul, 2021
Mohammed Vakil is a diamond in the world of Indian music. Trained in the Guru Shishya Parampara (teacher-disciple tradition), he has rapidly matured himself into a Maestro, an extremely skilled professional at his art of singing, who expresses his poetic verses with great precision, collaborating feelings of love, romance, and calamity moulded authentically in either a Sufi or Ghazal format. He was the winner of TVS Sa Re Ga Ma Pa telecasted at Zee TV in 1998. He was fortunate to get his first break in a film called Veer Zara released in 2006. And then life took a right turn for the youngster. Mohammed Vakil found his destiny. The innovativeness of Mohd. Vakil is depicted in intermingling the western and eastern instruments. But even then he has succeeded to maintain 'Ragdari' and 'Roohdari' in his presentation. Read the excerpt below to know more about him through our Editor Bhavna Sharma.
1. Sir, please let us know about your journey in the field of singing and ghazals.
I find myself lucky that I am born in a family where music is worshipped. I am the sixth generation and I belong to Jaipur Gharana. My paternal grandfather Late Ustad Mohammad Ismail Sahab and my maternal grandfather Late Ustad Afzal Hussain (Jaipur wale) were amazing artists and you will still find the living aroma of their notes in the air of Jaipur. But I learned music from the world-famous Ghazal Singer Ustad Ahmed Hussain Sahab and Ustad Mohammed Hussain Sahab. I always had a keen interest in the field of music and at the age of six I participated in my first competition "Master Madan Competition". The jury members were Ravi Sahab and Jaydev Sahab. After that I took music seriously and at the age of seventeen-eighteen, I requested my teacher to teach me the Grammar of Music.
My life completely changed when I gave my audition in Sa Re Ga Ma Pa in 1997 and there I won the Final Round under the jury Pt. Hari Prasad Chaurasia Sahab and Sharan Rani Ji. I didn't know then that there is one more round known as "Mega Finals" where all the final winners need to compete. The jury table was huge and I finally won. My jury members were Pandit Jasraj ji, Pandit Hariprasad Chaurasia ji, Parveen Sultana ji, Anil Jaiswal Sahab, Naushad Sahab, OP Nayyar Sahab, Kalyanji-Anandji Bhai, and Jagjit Singh Saheb.
2. What is the most fun part while building music for a song and recording it?
I remember an incident that happened to me. It was funny and painful too. So, when I went to record my song inside the dubbing room in the studio, the recording engineer was newly appointed there. I was asked to start and I gave proper takes maybe two or three, to get the best part and emotion right. The recording gets completed after few hours. When I came out and asked the recorder to play the song I sang; then in a very sad and painful voice he said "Pardon me, Sir, I forgot to switch on the Recording Button".
3. The music industry is highly competitive. Can the new talents make their way in this industry and especially if I talk about Ghazals?
The art of singing is a huge ocean and a person always learns it by diving into it. We should never take our passion as a competition. There are people who take it as a competition and plan a career in it to make a huge fan following. Singing is worship and one should do it sincerely and honestly. Those who worship it honestly are always winning the hearts. A person who has knowledge of classical music can sing any song whether it is Ghazal, Bhajan, Sufi, Bollywood. But for having a good command over Ghazals one should also learn the art of Shayari and poetry so that the pronunciation becomes clearer.
4. Don't you think Ghazals in India are slowly fading in comparison to electric and pop music?
According to me, I won't say that Ghazals in India are fading but what it lacks is support from the media. I remember that I hosted a show on ETV called Ghazal Sara. The noticing factor of that show was that people of different age groups across the country used to come to participate in singing Ghazals and they really use to enjoy singing it. The only problem that lies is that the amount of support media has given to other genres of music is not what Ghazals are receiving. If Ghazals get the same or even half the amount of media acknowledgment, then automatically it will again come on top like before.
5. What is the most special moment that you remember and can share with us while working with Yash Chopra for Veer Zaara?
With Yash Chopra Ji there are moments in Veer Zaara that are unforgettable. When we were practicing the Ghazal in Yash Chopra ji's Bungalow he came and said "You all are singing amazing" but I request if you all can listen why and in which scene it will be placed. He explained to us the scene and then the whole emotion of the Ghazal was changed after his direction. The second thing that I have noticed in various upper-class people is that they have a tendency to order others but with Yashji, the values are much higher. I remember when the recording for Veer Zaara was completed and the CEO of Yash Raj Films Sanjeev Kohli Sahab called Yashji to visit the Empire studio and have a look at the recording. When Yashji came then he very politely asked Mr. Sanjeev that "Sanjeev mujhe bahut bhook lagi hai, please kuch khaane ko mil jaega mujhe" and I was amazed by his down to earth nature. He, in such a big position, can order anyone but didn't do and we have learned so much from him. We have the biggest gratitude for Yashji. Rest, it was a great achievement to sing for Shah Rukh Khan ji, Madan Mohan ji's music and composition that was by Javed Akhtar ji. It was indeed a great experience.
6. What is the difference you see in the musical world in terms of when you started your career and now the current scenario after so many years?
I will again emphasize that singing is an art and one needs to dive deep into its ocean to learn the core of it. A person keeps on learning it forever. When I started my career no one used to give me work. I used to ask managers of 5 Star Hotels in Jaipur to give me work and it was a difficult time for us. We used to walk miles in the scorching summer heat of Rajasthan. Later, by the grace of God and the blessings of my parents and teachers, I won Sa Re Ga Ma Pa. My life changed completely then. When I went to Belgium with the phenomenal singer Sonu Nigam, it was amazing to see people recognizing me as a singing sensation. It was a big thing for me and now I have done around 12 to 15 solo/ albums. Still, I rehearse daily as a student and keenly look forward to learning something new. I have been awarded many awards but I always remember my struggling times as they give me the power to improve and keep working hard. It also helps me to stay grounded.
7. You have achieved a big name in the industry already. Now when we talk about you and yourself, what is the next goal or the next big thing that you dream to achieve now?
See, making a name in the industry and what I will do next is connected. Actually, when the person dreams a goal, he/ she thinks it is my goal but after achieving it, then he/ she dreams another goal in life. So whatever I have achieved till now is by God's grace and with blessings of whosoever, I have worked with or have given stage performances like Jagjit Singh Sahab, Pankaj Udhas Sahab, Talat Aziz Ji, Bhupinder Mitalee Ji, Roopkumar Rathod Sahab, Sunali Rathod Ji, Shreya Ghoshal, Kavita Krishnamurti Ji, Sunidhi Singh Chauhan, Sonu NigamSahab and many others. After a beautiful journey when you think about what next, there is always a new dream and goal that I want to do. These days I am working on my own music composition, singing, and working on its release. It's an amazing feeling altogether on your own creation. I always work hard on my music and do it in such a way that I hope that people love it forever and never forget it.
8. What advice you would like to give to children and their parents who want to build a career in Singing, Music, or Ghazals.
I have a request to parents that when at a young age; children receive name and fame, huge appreciation from all across the countries, people desire to get photos clicked along with them and mostly it happens, in reality, TV shows. So it's the duty of parents to make the child understand that all these glitters are temporary and help make their personality well grounded. It is essential for children to know that it also happened by the Grace of God along with their hard work and one should never be arrogant while walking on the path of success. Our achievements are all of God and nothing ours. One piece of advice that I would like to share with the children and elders who are learning music is that learn it with honesty. Also, focus on the quality of your work and always work very hard. It will help in improving the quality of your music and your music will reach millions of hearts.