Interview with The Most Lovable Teacher at Ramjas School, R.K. Puram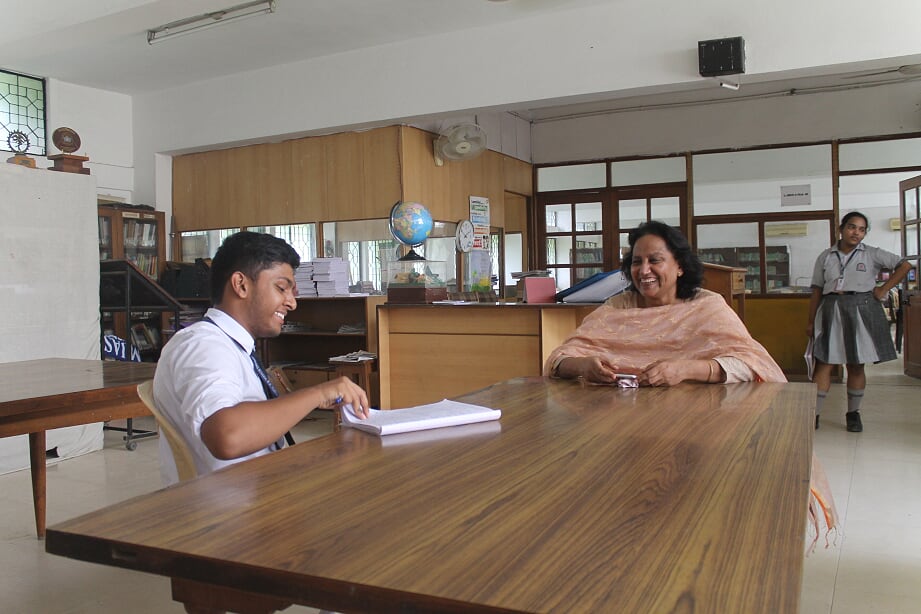 Bhavna Sharma, Assistant Editor
30 Aug, 2018
A teacher, who did not plan to be one, but won the hearts of many many students, who still remember her. She is a calm, affectionate, erudite yet fun-loving teacher. She has been a part of this school for over 30 years and has found way into the heart of students as well as teachers. But sadly, the time has come to bid farewell to this epitome of greatness who taught Economics and Business Studies in the most interesting way, Ms. Poonam Vohra Ma'am of Ramjas School, R.K. Puram. Read the excerpt below to know more from Ms. Poonam Vohra Ma'am through the student journalist of Ramjas School, R.K. Puram, 'M. Piyush Jayachandran'.
Picture Courtesy: Jose P. Joseph (Student Journalist, Ramjas School, R.K. Puram)
1. You have been a teacher for the past 32 years in this school and would have had many many experiences during these years. Do you recall any one proud or best moment as well as a bad experience you had in your teaching years?
The best moment happened two or three years after I joined this school, when I was given the 'Best Teacher Award', because all of the students of my batch of Class 12th got A+ in Economics that year. That was one of the proudest moments in my career. One bad experience I had during these years was in 2005, when I lost my phone, a Nokia N90 (laughs), which was a birthday gift. Even after all these years, I could not recover my phone.
2. How did your life as a teacher begin and why did you choose this profession?
(Laughs loudly) I never wanted to be a teacher, really! It was not by choice that I became a teacher, but by chance. But over the years, I developed liking for it, and now, I am very much in love with teaching, because of what you get in return from the students. Teaching and guiding students not only in their subjects but also in their life and the strong bond it has created between my students and I made me love teaching. You get so much in return from the students from what you give, and its truly amazing.
3. Do you think that corporal punishment is needed for children? If yes, then to what extent is it viable, and if No, then why?
No no. Not at all. I don't believe that giving pain to someone for their mistakes is right. See, everybody makes mistakes and it is not right to give more pain to someone for making the mistake. They should be told what is right and should be given a chance for reform.
4. What is the role of teachers in the development of a child?
The role of teacher in the development of a child is not just limited to teaching. A teacher is also a mentor, coach and also "parent" for the student. As a teacher, you are close to the students and there is a relationship between the student and the relationship is maintained for a long time, sometimes even after they have completed their school and sometimes forever. This relationship shows is not limited to books, and is beyond it, like guiding them in life or providing an advice. It is very important that the teacher plays their role.
5. How would you describe the change in students of then and now?
I believe there is no change in students, whether it is 1990 or 2018, because children will remain children. The only thing that has changed is distraction, which has increased due to phones, otherwise, they are the same. Parents need to be careful about what should they provide their children and choose wisely.
6. How was your first day at teaching? Can you describe the experience?
I was given class 12 on my first day. We had a discussion on a topic they were taught previously. Their understanding on the topic was wrong, and they didn't agree to what I said on it. A discussion took place between the students and me, and at the end of the class, they agreed to what I said. You can say that my first day was successful.
7. What tips and suggestions would you like to give to all the trainee teachers and the students, who aspire to become teachers?
They need to have patience and have to build a relationship with the students. The trainee teachers need to understand the view point of students. Unless and until they do not understand the students, they cannot build a relationship with the students. They should not be authoritarian. Each day will be a learning experience for them. Not only for them, but to all the teachers, even me.
8. Now that you are going to be devoid of the of the morning routine of going to work almost every day, what do you think you will do after your retirement? Have you got any plans for the future?
Yes, all the plans for the future are in place. I am not going to stop teaching till I have the fire within me. I will start teaching online from September. I will start by teaching Economics and then move on to other subjects. I have also got the opportunity to write a chapter in a book. So my future plans are ready.
9. What would you have been doing, if you weren't a teacher?
Well, if I wasn't a teacher, I would have been working in HR department in an MNC.
10. I heard from a teacher, that you are a dancer and, you are known to mimic people. What is your idea of having fun and how do you de-stress yourself?
(Laughs for a long time) How did you get to know about it?
Well, the mimicry is just for fun, and not to offend anyone. I de-stress myself my listening to music, meditation, yoga and dancing. After my retirement, I think I will have more time to continue these hobbies.
After the interview, we asked Ma'am to show her mimicry skills. Unfortunately, we have been asked to keep the identity of the person who was mimicked to be confidential.