Interview With Mr. Ujjwal K. Chowdhury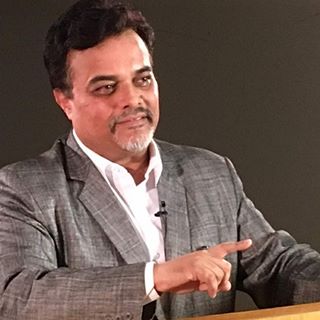 Prof. Ujjwal K. Chowdhury, a leading media academic in the country, he has spearheaded some of the finest media institutes in the country and taken them to newer heights. Prof. Chowdhury, currently the Director of Ramoji Krian Universe in the Ramoji Film City, has also been The Dean at Symbiosis International University in Pune and Amity University in Mumbai. He also has been the Dean at Whistling Woods, Mumbai. Additionally, Prof. Chowdhury has been a Media Advisor with the Ministry of Textiles, Government of India and the World Health Organization (WHO), India. Prof. Chowdhury has also supported and mentored a number of amateur movies, some of which went on to bag awards at National and International Film Festivals. Having made sixteen (16) documentaries while working for the World Health Organization (WHO) and The Nippon Foundation, Prof. Chowdhury has been active in the Green Battles (GB) seminars and conferences in the country and abroad. FairGaze got an opportunity to interact with Mr. Chowdhury through our correspondent Ms. Bhavna Sharma.
Sir, you are one of the leading media academic in the country. What do you have to say about the current scenario of media education in India?
Media education has surely developed than our student days. However, the larger part of media education in India is theoretical and not hands-on, and the teaching is just like any other social sciences inside the classroom. Further, those who have some level of practical work are yet to wake up to the reality of media convergence and digital media today.
You are really active on all Social Media Platforms. According to you, how social media has helped Journalism in setting a new sphere of dissemination of information?
Twitter and Facebook content of news-makers and at times common citizens has become a veritable source of media content today, especially when celebrities and politicians, including our PM, choose not to talk to media much, lest they are wrongly quoted. Also many on-ground activities with news value are initiated first on social media: movement against corruption, protest against lynching, or re-opening of the Jessica Lal murder case, etc.
Journalism and Films are becoming a big craze amongst youth today. Is media the next big emerging career in India after medical and engineering? Why so?
Media today is more than 1% of Indian economy with a turnover of Rs.1.5 lacs crores of more than 21 billion dollars and involving around 22 lacs people directly. Hence, it is already a major career option. Journalism, films and even brand communication are in good demand among youth even after doing an engineering or management degree.
Some parents always have security questions while sending their child to explore a career in Media related fields when compared with fields of Science and Commerce. How will you reply to insecurity of such parents?
Today lifetime career concept is almost dead. With active lives running up to 65 years of age, multi skilling and great people's skills, communication and networking skills have become important. On the other a good grounding in multimedia allows people to move from advertising to film-making (Balki) or from journalism to Public Relation (Dilip Cherian) or from news-media to development sector (many examples). So, the question of security is redundant not just in media, but even in any field. One has to re-skill, and re-invents oneself in his/her lifetime.
You have explored almost every side of media profession. Which side of media like professor, documentary – film maker, Journalist, etc. you found most interesting and why?
Exciting surely is making documentary or documenting news as it happens. But being in media education is much inspiring, ennobling and a humbling experience, and hence I am here by choice, leaving the job of a television news channel as its Chief of Bureau.
If a child wants to excel in media profession, what would you advice that child to follow daily?
A future media professional must today be a good communicator, a reasonably good writer, keen observer of human behavior, and have a penchant for technology related to images, video, sound and cyber.
What is the future of media at a time when the present situation stamps media as biased and misuses its power?
This is a passing phase. And media is not just in news, but also in entertainment, marketing and development. As increasing people want good cause driven movies like Dangal or PK or high end story-telling like Baahubali in the world of films negating gross violence or sex or stereotypes driven films, similarly the fake news based news media will gradually fizzle out.
How you used to separate your personal and professional life in a profession demanding 24*7 time?
Blend them both seamlessly. So if I go to a new city for a seminar, can have my wife and child along. If I go for a vacation to a city or country, I do make it a point to visit the most known university or studio or newspaper office there. I love cooking, though can make only a few dishes. And in the times of easy access, even though my family stays in another city due to wife's creative engagements, we have no problem in interacting several times of the day.
Having taught in so many Universities across India, what are your expectations from the media students?
Passion, Passion and Passion. Passion to meet new people, learn new ways of communicating, pick up technologies as if it is a new dish on the table, and passion to create impact through your work. Commitment to deadlines and excellence in what you do are must.
What are your future plans?
Evolve Ramoji Krian Universe to be South Asia's leading Media and Design University in three years, and then aim for Asia's best status. Personally, have some milestones in research and writing.