Interview with Mr. Ashok Pandey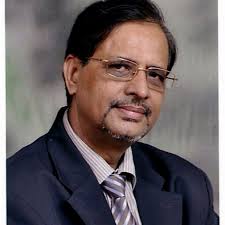 Mr. Ashok Pandey, is Masters in Physics from Allahabad University and in Consultancy Management from BITS, Pilani. The Ahlcon International School that Mr. Pandey heads for the past 13 years is ranked among the best Schools in the country. Currently he is serving as the Chairman, National Progressive Schools' Conference (NPSC). He has worked, in the past, with Mayo College, Ajmer, Delhi Public School, Jammu and Indian Embassy School, Saudi Arabia, among others. He has authored a book the Pedagogical Life-Essays in Educating India, described as an educational travelogue. Recipient of 'National Award for Teacher' (2012) and 'CBSE Award' (2009) for his contribution in education, Mr. Pandey has keen interest in School transformation, professional development of teachers, technology integration, global peace and climate change. Read the excerpt below to know more about Mr. Pandey through our correspondent Ms. Priyanka Negi.
How has been your journey till now?
Very satisfying. Some 33 years ago, I chose to work with young kids immediately after my Masters in Physics from Allahabad University, once known as the Oxford of the East. Later, I did my Masters in Education and Management. During my long career, I have worked with many prestigious organisations in India and abroad.
I realised that there is a teacher in me. From there on, my interest grew in teaching. As a research scholar later, I learnt from my professor, that the biggest challenge lies in working with young minds. Throughout my career, this dictum has shaped my thoughts. My teachers were a great source of motivation.
I was privileged to receive 'National Award for Teacher' (2012) by the President of India. I am currently pursuing issues such as school transformation, quality interventions, professional development of teachers, innovations in teaching-learning, technology integration, global peace, climate change, and sustainable development goals (SDGs).
My work and opportunities took me to countries such as USA, UK, Germany, Singapore, Malta, Sri Lanka, UAE, Thailand, Vietnam and Tanzania. I led Principals' delegations to the University of Malta in Europe, the University of Rice in Houston, USA and to the Institute of Leadership, Nottingham, UK. I took part in Australia – India Leadership Dialogue held in Melbourne, and as a delegate to the 3 rd International Educational Summit in Queensland, Australia. It has been an enriching experience.
What do you think are the most important characteristics and abilities a person must possess to become a successful academician?
Being a school leader, I have always emphasised that a principal should be a coach, instructional and mentoring leader. For that to happen, a school leader has to be a driver of learning on the campus. It is through creating a culture of learning that an institution can uphold the values and principles of good behaviour and good citizenship. It is important, therefore, that a school principal is seen as an example, an inspiration and a role model. People around you will look up to you for help, guidance and value addition. Your ability to give and share and practice what you would like to preach become paramount. Yes, your knowledge of the subject, its deeper understanding, and application, your contribution to the body of existing knowledge will catapult you to the status of an academician.

What would you consider to be your greatest teaching experience?
My teaching experience is enriched by what I have learnt from my students. It is students' hunger for learning, respect for the teacher, trust in the ability that gives the inspiration for a teacher to do his best. All these years I have always been very conscious of what my teachers have given to me, and I have tried to give back that plus more to my students. May I also add that being a teacher is a unique privilege which most of us don't acknowledge. The subtle sensitivities and human values that we keep talking about are all the time playing around when it comes to the teacher-taught relationship. It is this interplay that works to bring out the best in both teachers and students. They both learn together, grow together and get enlightened together.
Would you like to share your philosophy of learning?
I am a life-long learner in a genuine sense of the term. I think I have learnt many times more after my formal learning period ended in 1980 than I did before. Apart from several degrees, diplomas, certificates, training programmes and online courses, I am still in the process of learning. I am very inspired by those who are never tired of learning new things even in the most adverse situations. The young children around me are my greatest motivators. Their ability to learn a variety of new things ranging from music to science to sports is incredible. I always quote to myself and my friends that life cycle from the cradle to the grave is a learning process as our former president, Dr Zakir Hussain said.
Being a recipient of so many awards such as Delhi Ratan, National award and CBSE award, how will you suggest children be an all rounder?
I am humbled by the awards that have come my way. But I do not suggest, one should work for awards alone. One should work towards fulfilment in life with sincerity and devotion. Children are brilliant, and they are all rounders in many ways as I said before. My only advice to them is that they should focus on being good human being first, adhere to the principles and values to enhance inner strength. We assume that name, fame, power, influence, qualifications and wealth help us succeed. Not really! But developing a set of core values, practising conscious living, continuous improvement of the self, will bring a well-rounded personality around us.
Do you agree that technology has changed the way of learning?
Technology in today's time is a necessity. The only way to channelize the benefit of it is to embrace and update ourselves as students, educators and administrators. We are the pioneers in many pilot projects at all levels of Microsoft showcase school, online research projects, blended learning, e-governance in education and much more. The students are given opportunities for webinars, conferences with organisations like UN to have a global outlook. With technological interventions like multi-media classrooms, school is better equipped to handle inclusion and personalised educational experiences. Indeed, technology has changed the teaching learning eco-system. Teachers must take the lead in embracing this change.
Do you think teachers and mentors are the keys to unlock the door of success for students?
Mentoring is key to the teacher-pupil relationship. Teachers have that mandate and respect. In the past, we never questioned the wisdom of the teachers. Is it so today? I think not. I'm not casting aspersion; I am only stating the difference. Second, teachers were the only source of knowledge, but not so now. What is very glaring is that the level of expectation has gone very high on both sides. Skills required today for the teacher to be a friend, philosopher and guide are indeed different. From the stand point of students, teachers must be engaging and compassionate.
I agree that the teachers are the architects of the future. Since the ancient time's teachers, priests and the elders have been accorded that responsibility to mentor, guide and mould societies. In my view the role of teachers is paramount, and they hold the key to shape a utopian world. I strongly argue that teachers should also be considered as assets by the organisations and the society. While they have to take their responsibility of the nation building in all earnest, societies must endeavour to invest in them, their learning, up gradation and continued growth. I agree that teachers have the lasting influence on their pupils, but the role of parents, society, polity, and media cannot be discounted.
Would you like to share the success mantra among students?
The teenagers are the unwilling recipients of surnames from the elders. They are very bold and confident. And yet, I would urge them to make their choices responsibly. Humility and gratitude are the other virtues they must imbibe early. Human qualities surpass all other qualifications. Love yourself, and live happily!!