Interview with Mr. Tapas Relia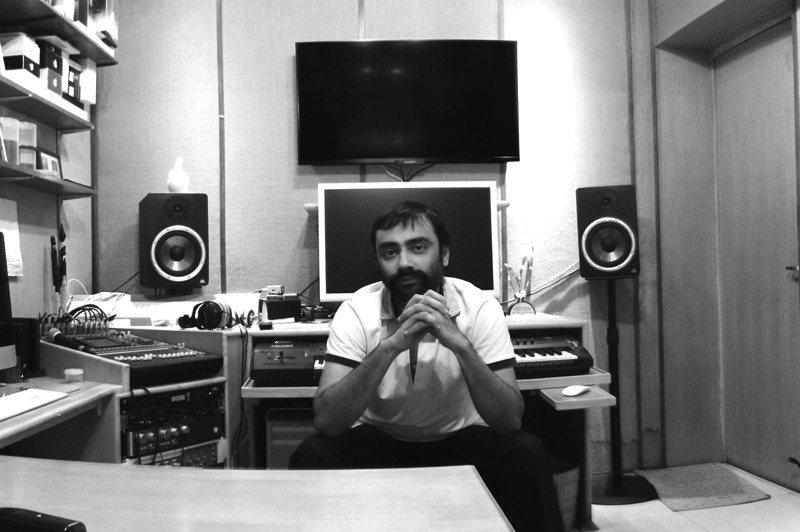 Tapas Relia is an Indian music composer and producer, known for his famous advertising campaigns for brands like Close-Up (toothpaste), Domino's Pizza, Amaron Batteries, IPL and Mahabharat (2013 TV series). In Mumbai since 1996, he has also scored music for Bollywood films, including India's first major commercial animation film 'Hanuman (2005 film).
His recent work includes films by acclaimed Director Nagesh Kukunoor, Lakshmi (2014) Dhanak (2016), and a film by Amit Masurkar realising this year in August called 'Newton'(2017). Read the excerpt below to know more about Mr. Relia through our correspondent Ms. Bhavna Sharma.
Q1. What is the essence of music for you? When did you find deep love for music?
Simply put, Music for me is an emotional getaway. Whether you're happy, jubilant, sad or depressed, it helps you navigate through those emotions rightfully and accurately.
There was no 'one' moment of discovering love for Music. It was a slow and steady process, which began right from childhood, and evolved fully by the time I was 14 or 15, by which time, I had decided that this will now be my life.
Q2. Bollywood Industry is a struggling zone for new comers. How you gathered courage to fly your wings in an industry like Bollywood?
I never needed courage to take that decision. When you're so blinded by sheer want/need and passion, you really don't need any courage to do anything. I just loved making music and was fortunately stupid enough to think that at the age of 17, I can just pack my bags, leave my old life behind and move to Mumbai to be the next big Music Director.
A journey becomes a struggle when you think too much and begin asking a lot of questions. Do away with the questions and doubts, and you'll begin enjoying every moment of that journey. And if you just keep doing what you always wanted to, eventually you won't even notice when 'success' comes at your door.
Play for yourself first. You don't always need an audience. That's the beauty of Music.
Q3. Being one of the top notch music composer and director, how technology enhances the musical journey of composing and creating a piece of music?
There are software's and plug-in available for almost everything out there. A lot can be achieved just sitting in your room with a laptop. There are a thousand choices easily available for anything today. The tough part is to know what you really want and stopping at some point. It can all get very overwhelming and becomes easy to lose your way in the jungle.
Technology is necessary today. It is a boon, and you can't deny it. But as we know, a lot of anything can be counterproductive. It is evolving at the speed of light and growing like a beast. It's really important that you tame the beast fully and control it, before it takes control of you. Technology is no good and no fun, if you don't understand it.
Q4. While composing music for your first huge break in advertising industry i.e. for Close Up's jingle "Kya Aap Close up Karte Hain"; what all preparations you did to set a remarkable edge for you?
The advertising industry in Mumbai doesn't give you much time to think, rehearse or even plan anything in advance. It all happens on the spot. You're called to the studio on a certain day for a job you have no idea about, and are expected to deliver in less than 12 hours.
So trust me when I say this. That the Close-Up jingle was composed in just about 15-30 minutes. I had to compose music for three Close-Up ads in one day and time was less. This one was one of the three.
But that's the fun I think. You keep on jamming and playing and suddenly something pops out that blows everybody's mind. You should ALWAYS be prepared.
Q5. Being a part of both advertising and film industry, what are the major differences you see in both industries?
The Ad industry is always running short of time. So everything there is moving at a lightning pace. Tons of creativity, experimentation and out of the box thinking take precedence there.
Working on feature films is a different thing. You live a project for a few months. Making songs, lyrics, singers, musicians, background score, so on and so forth takes up a lot of time. Lot of people involved over a lot of time. The payoff in the end is huge. Your work over there connects you directly with your audience, which is a beautiful thing.
Q6. Parents are really doubtful about their child's career in Bollywood. Do you think children should pursue a career in Music and do Bollywood really identifies potential talents or is it all about contacts?
Let me begin by saying that I've yet to see a super success story of an individual made by only contacts and references. You may have contacts, but that doesn't assure you anything. You need to have the talent and the perseverance to last. Bollywood as a career is as doubtful as any other career. There is always a risk involved in anything that you would do. Then why single out Bollywood? In fact if you're a musician/composer, you don't need to rely only on Bollywood. You can make your own Music and find your own audience. Independent Music is really picking up.
The real problem today according to me is that the newer generation doesn't have patience. They want results immediately and want to pursue Music for the money and fame, and not for the true love of Music.
Nothing can stop you if you have the talent and the patience to learn and grow.
Q7.What advice would you give to children who want to enter musical profession and where they could get such platforms to nurture and showcase their talents?
Stay true to your talent and never stop learning. Learn to trust your instincts and take risks. Remember, that you've got everything, but it'll take everything you've got. If you do not put in the efforts, you won't get the results.
There are hundreds of platforms where you can showcase your talent, or learn, or collaborate. People are always hungry for new and good talent. Sign up online with small and private music labels or release your music independently, which is also very easy.
Q8. Which all projects are really close to you in your Bollywood career and why?
All my projects have been close to me. I wouldn't have been able to give my 100% if they weren't. Every project gets with it a unique and a different set of experiences. Whether it's Hanuman, Mod, Lakshmi or Dhanak. They are all special as I've learned a lot of while working on them and grown as a musician.
Q9. You started learning music with Western Classical Music. Where do you see Western Classical Music ten years down the line?
Western Classical Music will always remain a niche genre. There will always be ardent lovers for the format. The good thing is that we have many young students who are choosing to learn this Music. It's also becoming relatively easy to find Western Classical teachers and institutes even here in India.
A change everywhere is not required. The lesser such Classical formats change, the better!
Q10. What is the success mantra for the children who want to be a successful and renowned music composer and director in a cut – throat industry?
Trust your instincts and take risks. Never stop learning, and most importantly, learn to be patient. The competition is tough, I agree. But that is the case in almost every field or profession. So it's important to feel proud about what YOU do and CAN do, without losing your way.
If you choose Music as a career, do it unconditionally.