Interview with Mr. Avinash Tripathi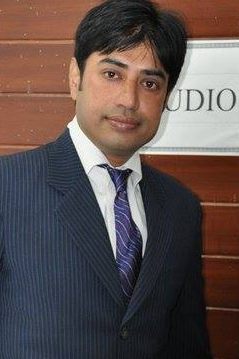 Avinash Tripathi is one of the leading documentary and short film maker of our country. He has made more than 700 documentaries and various short films. Former media in charge and senior faculty of Film Studies, Amity University, Mr Tripathi has already guided millions of students with his visionary approach. He does not stop here as he is also a Popular columnist of Teesra Pahlu column of Rajasthan Patrika newspaper. His journey of journalism made him one of the most prominent TV panelists on various news channels. A film critic, scriptwriter, adviser and jury of various film festivals across nation made him won several awards. He is Founder and Director of Animesh Films which is doing great in documentaries for India & abroad. He was recently honored with WOW Award in Mumbai. Read the excerpt below to know more about Mr. Tripathi through our correspondent Ms. Bhavna Sharma.
How you came across the deep interest in cinematic world while growing up in a spiritual state of India 'Uttar Pradesh'?
I originally hail from Basti which is neighbor district of Holy Ayodhya. When I was very young, a touring book fair used to halt our school for few days. They had world literature books and from there I attracted towards literature. I started reading novels, few Russian literature translated in Hindi, Poetries, and all. Being introvert, I started writing my emotions in lyrical form. Cinema was not in my mind during childhood.
Your family has deep roots in education sector. Have you struggled convincing them about your dreams and aspirations towards the glamorous world of Cinema?
My grandfather did his BSc and LLB from BHU long before we got independence. He was one of the most learned person from the district and famous Lawyer. My father carried forward his legacy and did his LLB in 60's from Lucknow University but I didn't want to go in traditional professions. I started doing theaters, poetry recitals at an early age and my parents were closely watching my area of interest. Fortunately, they were convinced about my talent and gave me nod immediately when I broke this news. My mother wanted to make me Civil servant ( IAS ) and I told her that I will try to fetch more honor and glory to the family as I could being an IAS Officer. They supported me in thick and thin. My family were very happy when they watch me on TV in very young age as News Anchor for Doordarshan.
From the stage of idea generation till editing, which stage of film making seems more interesting to you and why?
The most important stage is Script. Unfortunately; in India we were not giving importance to good story, script which is base for Film. Its body on which all ornamentals can placed to make it beautiful, meaningful. Since last few years the conditions has started getting better and new subjects, good scripts are coming up.
You developed the art of anchoring at a very young stage and did anchoring for several shows of Doordarshan. What all preparations you used to do to extract the best out of you?
I think my interest in literature and being poet helped me immensely in anchoring different programs as anchor. I never had dearth of words while anchoring live. My Urdu knowledge helped me a lot in making my anchoring more soothing to ears and more effective also.
World witnessed the use of technology in one of the spectacular movie 'Baahubali'. What do you have to say about the future of such technology in the film making process of Bollywood?
In my knowledge technology is to support the narrative of film. The aim of any film is to tell you story in beautiful, appealing, and aesthetical manner. Technology should not supersede the story telling and essence of the film. Since inception of film, technology has changed in each decade but even after more than 100 years, we still look at story.
Children are moving towards pursuing a career in media and films rather than becoming an engineer or a doctor. Are there any good opportunities for children in competitive field of media and films?
Indian Film Industry has grown manifolds in last few years and secured a good position in world movie panorama. Media is umbrella term under which there are plethora of different job profiles and skills. Same goes with films as it requires different skilled people to make single film. Story writing, Dialogue writing, Cinematography, Lighting Director, Sound Engineer, Foley Artiste, etc are different field where student can make their career. Now days there more than 1000 channels in India and they need trained and skilled people.
What advice will you give to children who endeavor for a career in media and films?
Media and Films look very lucrative and glamorous industry but this should not be criteria to enter in this profession. Students must do introspection about their interest , capability before entering in this highly competitive world. They must know that talent, hard work and bit of good fortune is needed to get success . They should not be impatient if they are not getting success immediately.
Are films losing the art of projecting realities of society these days?
Indian cinema journey is very interesting. Till 60's Directors and Writers used to raise issues close to realities and they are from real world. The arrival of Amitabh Bachchan destroyed the real issues of society. He had such powerful cinematic persona that nothing was needed to make a hit film except him. In those days people used to say that even Amitabh's poster can run a film successfully . 70's and 80's decade could not produce good meaningful movie baring few movies made by Shyam Banegal, Mahesh bhatt, Govind Nihalani. They formed parallel cinema and made films which were for niche audience. Fortunately, in last 10 years good film makers again started making issues based films. Now where big budget 'Bahubali' is doing well at the same time, a small budget 'Hindi Medium' is also performing well.
You have taught media and film in various Universities and came across variety of students. What do you expect out from a media and film student? What all activities they should perform daily to establish themselves as a successful media and film person?
They should read a lot which they lack mostly. The new generation hardly read literature, mythology, epics. These things give idea about saying a story or thought in more artistic and in under currents. They should be aware about society, political happenings and should know about cultural fabric of society to make good films.
What are your future plans?
I have written few scripts in recent past and hopefully I would be directing a movie next year. As I am poet also, so I am writing lyrics for few Music Directors apart from some work related to News Media.