Interview with Mr. Varun Inamdar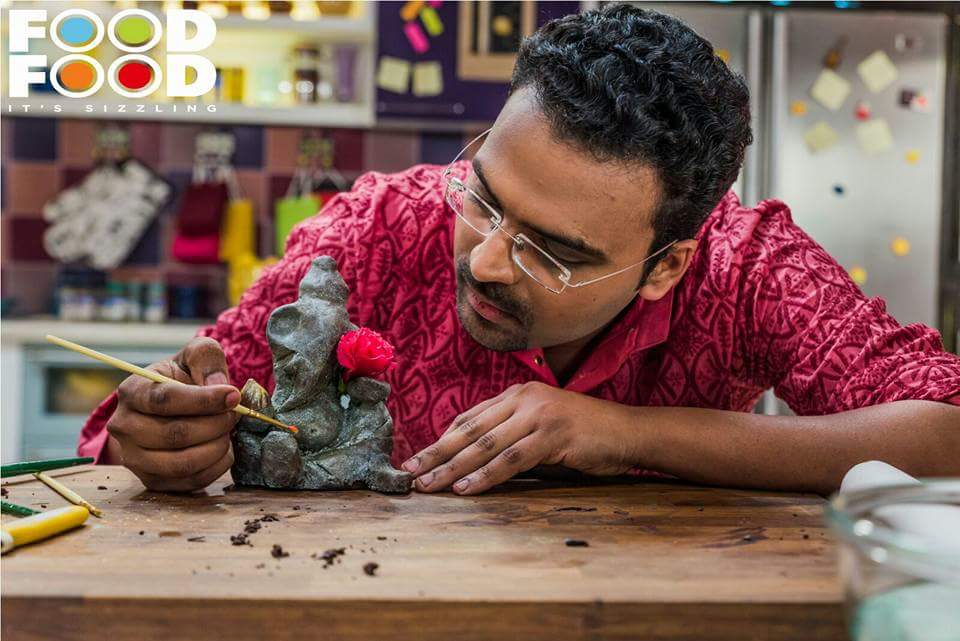 Varun Inamdar, a master chocolatier is also known as 'The Prince of Chocolates in India', is currently working as an independent hospitality professional. He is famous among people for his delicious and amazing food creations. Varun believes in determination, passion & dedication towards food. He is always on the lookout for exploring something new. Read the excerpt below to know more about Mr. Inamdar.
When did you know you wanted to become a chef?
I never wanted to become a chef. That was something that I could never even dream of. All I wished to be is in the kitchen and that's it. It could be anybody doing any menial job in the kitchen. 15 years back, when I was studying, I came up with this idea of working after college hours. I had always been a good student in my hotel school years and every afternoon I would sit with a new book, but there was one book that I sat with every day but could never finish and that was 'Larousse Gastronomique'. Whilst we could take every other book home using our library card, we were not allowed to take this one as it was very expensive. So I wanted to buy it. I did not want to burden my family with the expense of this book hence I checked with my college if I could work in the evenings. Permissions were granted and work evenings began. My first job was that of a dishwasher in a fondue restaurant in Bandra, Mumbai. From there the journey began after which I got through Oberoi Centre of Learning and Development followed by The Oberoi Hotels and Resorts and The Kuwaiti Royalty. 15 years and today, I am known as 'The Prince of Chocolates' and rank amongst India's top 10 celebrity chefs. In these years I have been fortunate enough to serve the world dignitaries like Barrack Obama, Nicholas Sarkozy, Vladimir Putin, The Royal families in the Gulf and India alike. For an outsider with no Godfather, I am very proud of my journey so far. And trust me this is just the beginning.
What inspires you? How do you come up with ideas for the dishes that you create?
A lot of things inspire me, some vague thoughts; ideas which look unachievable inspire me to crack them. When I made India's First Chocolate Mannequin, a lot of people asked me not to make it for various reasons. They said what if it breaks or melts while transporting. I said that in that case I will stand there personally and make it again live in front of the spectators. When a television channel approached me for a Ganesh Chaturthi episode and create 3 different types of sweet modak, I said instead let's create Chocolate Ganesha. These things happen because of one's clear passion, perseverance and persistence. And this combination can make one create the most beautiful- unthinkable things. Apart from all this, India as a country, its beauty, its heritage, its produce, its culture inspires me. This is how Barcode artisanal chocolates came into life. Today, it is looked upon as a complete luxury signature collection. It is all about India. 29 flavours, each representing the 29 states of our incredible nation.
What made you gravitate towards chocolate as opposed to other specializations?
It was all by chance. The hotel that I was absorbed in after my studies did not have a designated Pastry chef. I professionally had neither the inkling nor the interest to be part of that department, as my forte and focus had always been the hot kitchen and cuisines. But somewhere destiny had a different plan. I slowly started learning and the rest is history. But I am happy that because of that learning I can fuse flavors and techniques in both cuisines and pastries with flair.
Do you have any vivid or memorable food experiences that impacted on you as a child or as a young chef?
My father turned a vegetarian suddenly after an unfortunate dining experience that made him take that step. So whilst as a child, my mother rustled up the meat dishes on Sundays, I chose to stir the vegetarian fare for my father. That gave me more and more exposure to cooking as a medium. And I think that has impacted my cooking style and thinking a lot because I still think as a young boy. I disagree, with term 'young chef', as chef is an acquired grade of respect that a professional achieves as one keeps going higher up the ladder. I am lucky to be one, and trust me it needs a lot of hard work, focus and dedication.
What was it like working with hotels in different countries?
It is very different even one kitchen area to another. Country to country difference is a huge thing that we are talking here. Suddenly, handling a different set of team members from one's adjoining kitchen could also be a challenge. Having said that, I am a fun loving person and can adapt to any situation. I am basically a crisis specialist. I shine best under stress.
Do you agree that parents should appreciate children's passion for cooking be it, girls or boys?
Off course, parents must be appreciative of the child's first signs of showing interest in the kitchen. My nephew, Vivaan is 3 and is already glued onto Youtube cookery videos, my food shows. Not just that he also helps his mother in the kitchen with shelling peas, rolling chapatti discs. However, irregular the shapes are but what is important is to let him be himself and not pressurize one's choice and likings. And, the gender in the kitchen is just a word. I do not like people who differentiate and use terms like 'Lady Chef' and the likes. A chef is a chef, whatever the gender.
Would you like to share your opinion on 'qualities that define a good chef'?
One must be focused. Right from the days in hotel school till the last meal that you cook in your lifetime. There is no end to learning! You may pick up a style, a technique, a certain nuance from anyone, from anywhere. The sandwich maker on the streets may teach you something. So be vigilant always. And try to encapsulate each learning, each experience into daily functioning. Apart from that, be passionate, be dedicated and dream big always! You are not dreaming enough, if your dreams don't scare you.
According to you, is it important to work in coordination with a team to achieve success?
Off course, your team defines the person you become professionally. It is always the team that would efficiently follow your vision to make it or break it for you. But the success mantra is to take the low points in your own stride and the high points and laurels must be dedicated to them. That's the mark of a true leader.
How can young enthusiasts brush up their talent of cooking or preparing something unique?
Talent, I feel is ingrained and you can't polish it. You can only brush up on your knowledge and keep adding more by reading, and keeping your eyes open to the world of food. Every day, there are newer inventions and discoveries. To prepare something new and unique, one must first master the known and traditional because, one must know the rules of the game first to break them in order to crack newer formulae.
How important it is for students to learn cooking at an early age?
To learn cooking is extremely important, not to prove it to anybody or yourself but your basic survival. It is essential to be independent in today's world. And like I said earlier, it is immaterial if it is a boy or a girl. The earlier you learn the better, as it gives you those many years of learning.
What challenges are you looking for in this position?
Every day is a new challenge. You've got to be in the grove to face it, and take the bull by its horns. Keep learning. Keep reading. Keep your basics strong and keep evolving. Think 10 steps ahead. And last but not the least, be fearless!