Interview with Ms. Srishti Rawat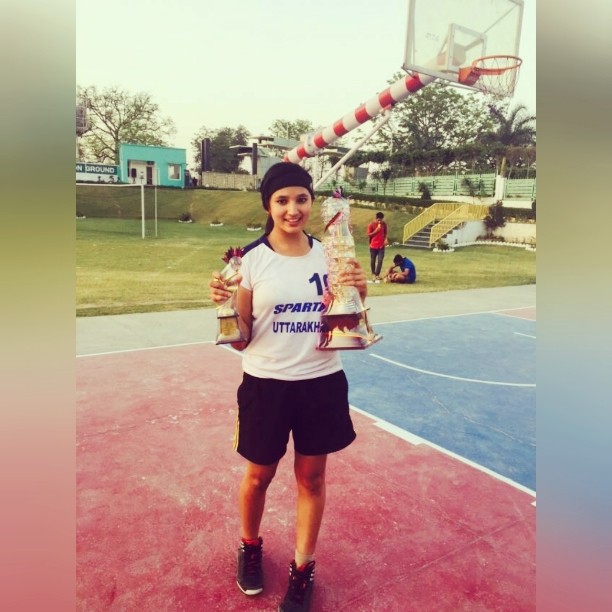 Assistant Editor
06 Apr, 2018
Ms. Srishti Rawat is a Basketball player who derived this sport at a very young age and is exhibiting her skills in many State and National Tournaments. This 19 years old athlete is a resident of Dehradun and also the former captain of Uttarakhand's Girls' Basketball team. She has many trophies under her name as a phenomenal player both in States and Nationals. Srishti is currently studying in Sri Ram College of Commerce (SRCC) and is looking forward to represent Delhi in National Tournaments and wants to make her passion for Basketball, a full-time career plan. Read the excerpt below to know more about Ms. Srishti Rawat through our correspondent Ms. Swati Kaushal.
When did you realize you wanted to be a Basketball player?
I was an athlete when I was a kid but never thought about basketball. As I was raised up in a joint family with 4 brothers, I was more into cricket and football. I started playing basketball in class 7th when I joined school summer camp for fun. That's when my coach discovered my talent and asked me to come for regular team practice. I got a chance to play sub junior states right after I started playing basketball and then I realized that I am actually good at it.
What are the basic qualities of a good sportsperson?
I think commitment towards the game is one of the most important quality of a sports person. There should be a 'hunger to win' in a player and he should be working hard, pushing his limits on the court. Practicing with the team is very important in basketball as you need to coordinate with others to make every basket count. Positive behavior, discipline, honesty are another things that we expect from a good player.
What role do your parents play in your journey as a Basketball player?
My mother has always been supportive when it comes to basketball. She wanted me to play but not compromise with my studies. After I took up basketball, my grades started falling and my father couldn't digest it. It becomes hectic to manage studies as well as basketball as early morning practices were tiring and then a long day at school made it even more exhausting then I used to play with boys after school and then crash in bed as soon as I got home so I had less time for self-study and no time for tuitions. They told me to give up basketball in 10th standard because of boards as I was missing my tuitions for it. During the time of my prelims, I was selected for senior state team. I invited my dad for the match. It was the first time he was watching me play and after that he never ever told me to give up basketball, not even in class 12. I always wanted to study in SRCC, my dad was pretty confident that his daughter will get into India's best college through sports quota and I got what I wanted through basketball.
What is the importance of extra-curricular activities in a student's life?
It gives the student an opportunity to develop particular skills and exhibit their non-academic abilities. They actually compliment the curricular activities and groom the students in the "Art of living and working together." They are the true and practical experiences gained by students by their own learnings. Because all work and no play makes Jack a dull boy. Educational institutions aren't meant for academics only. They are meant for a balanced education and student-life.
What are your future plans?
I've played four nationals representing Uttarakhand and for now, my future plan is to represent Delhi in upcoming senior nationals and qualify for India camp this year or the next year. I might get a chance to represent my nation someday.
If you get a chance to meet any Basketball player, who would it be?
If I get a chance to meet a basketball player, I would like to meet Kyrie Irving. He is an American professional basketball player for the Boston Celtics of the NBA. He is the best point guard I've seen so far with high accuracy to shoot three pointers. Even I play a point guard's position so I really adore his moves and ball handling skills. He literally has the idea of all ten players on the court and feeds his team mates in the best possible way.