Interview with Srimonto Mazumdar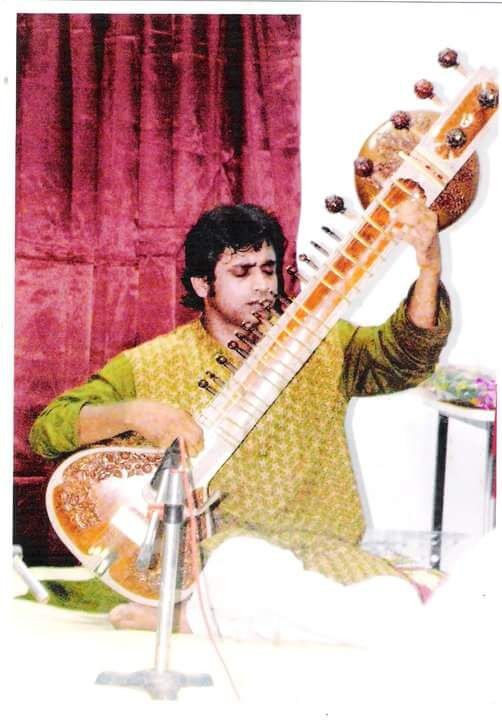 Srimonto Mazumdar belongs to a family of music & artists of Allahabad, U.P. Srimonto started learning Sitar at an early age from his father late Shri Partho Sarathi Mazumdar, who himself was a reputed musician of his time and was the first generation to play Indian Classical Music on Guitar. Srimonto has also received training from Shri Sanjay Guha of Kolkata and continued his training from his elder brother Shri Gaurav Mazumdar, a reputed musician of the present generation and disciple of Bharat Ratna Pt. Ravi Shankar.
Srimonto has completed Sangeet Prabhakar from Prayag Sangeet Samiti, Allahabad and has also won many competition of Samiti, Allahabad University, Sangeet Natak Akademi, Lucknow and All India music completion organised by Maharishi Gandharva Ved Vishwa Vidyapeeth, Noida. He also travelled to Australia, Kenya, Dubai and Singapore to accompany his brother Shri Gaurav Mazumdar on a music tour. In his career of Music, he faced a lot of difficulties due to his hearing problem. While performing tuning and teaching, he used his eyes for hearing and vibrations to understand it. Earlier he had a tough time fighting with the difficulties but now he considers them as his capabilities to know life and music better. Let's know know about him through our correspondent Ms. Bhavna Sharma.
When did you develop a love for music? What is music for you?
I belong to a musical family, where every member of the family is involved in music professionally or unprofessionally. I had a musical environment at my home since my childhood and I have developed a love for music by listening to it from my father, brothers and cousins. Many of popular BANDISH of Indian classical Music and old Bollywood songs, I heard first time on my father's guitar much before audio and video systems. For me, music is everything. It has given me love, respect and recognition in every aspect of life.
What is the current scenario of Indian Classical Music in India? Do you find its craze amongst young generation?
Indian classical Music is very famous among the people of the world. Earlier, the only budding artist used to go abroad to perform but in present scenario's almost every performing artist is going to abroad to give their solo performances. Even fusion of Indian classical and western music is very famous worldwide. And when it comes to its craze among young artists, I would just want to say that Indian classical Music has its class and it is for Classy people. The artists of present generation care more about the fame and they have less devotion for music.
What motivated you to choose sitar over other instruments?
When I was 10 year's old, my father gifted me a small sitar and started teaching and encouraging me.
You were invited for various music tours abroad. What were the differences you observed while performing in India and in abroad?
The interaction with the audience is quite different in these two places. As an Indian, I know my audience while in abroad, as there is a variety of audience, the content, the amount and quality of interaction with them changes. Besides, Foreigners are very punctual for the event timing.
Your father was the first generation to play Indian Classical Music on Guitar. Have you ever played any western musical instrument like your father?
No, my father was very obsessed with Indian Classical Music and he only let us learn Indian classical Instrument. But later, when I get into teaching, I started playing synthesiser. I love to play old Hindi film's songs.
You are fond of Photography too apart from your passion in Music. How did you find your interest in Photography?
When my hearing problem got worst, my brother advised me to learn a new form of art and brought me a camera. Then, I started learning it. Later, I developed a passion for artistic photography but never liked to click pictures of people. That is why I never got into professional photography and returned to my previous art. I also have my exhibition of artistic photography.
Is studying Indian Classical Music good to develop a career in Music w.r.t. today's scenario? If yes, how will it help students?
There is already AIR & Doordarshan, now many TV channels n FM radio so demand of musicians is increasing. As the number of Private schools and universities are increasing the requirement for music teacher's is also increasing. There are also chances for public performance, or to join any orchestra/ music band etc.
Do you feel any other type or genre of music should be played on sitar other than Indian music?
Yes, with the demand and huge competition, it is fine but music should be soothing and melodious one.
Who are some of your favourite Indian musicians and how have they inspired you?
There are many in my family and other budding artists. It is hard for me to name one artist. But Pandit Ravi Shankar is my ideal for his music and timing.
What message do you want to convey to young children who are interested in Indian music?
The students who want to learn music, they should first respect the art and it is not a one day process. It needs dedication and devotion.