Interview with Mr. Faisal Haq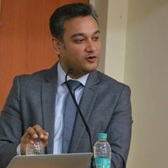 Mr. Faisal Haq is heading Digital Marketing Operations for WATConsult in North India. He is a conscientious, seasoned and achievement oriented professional with over 13 years of experience in Digital Marketing and Social Media practice. He has been at the forefront in conceptualizing and implementing award winning campaigns for various brands. He has also trained and worked for the development of young minds to be the torchbearers of digital movement. He conceptualized and conducted the first ever YouTube Training Session in India by Google. He was associated with the Common Wealth Games 2010 as a trainer, was the member of 13 official trainers, trained 22,000 volunteers and 3000 workforce during CWG2010 and was heading the Digital Marketing & Social Media Communication for CWG-Delhi 2010. Mr. Faisal has also conducted Social and Digital Media training workshop for the Government of Bhutan for their Information Media Officers. Not only this, he has developed and designed the digital marketing framework for marketing professionals for the 'Kingdom of Bahrain'. Read the exceprt below to know more about Mr. Haq through our correspondent Ms. Bhavna Sharma.

How did you discover a career in digital marketing and advertising?
I started quite early when India only used to have VSNL as the service provider and it was the only gateway to reach out to the global audience. I was a part of LiveWorld and launched world's first online shopping portal that used to work in real time. It helped me understand the power of digital marketing and online advertising.
Online medium enabled us to reach target audience in real time. Basis their real time consumption of the information, campaigns and messaging were tweaked and brilliantly amplified. This thrill encouraged me to peruse digital marketing as my career and there has been no looking back since then.
As a successful strategist in digital marketing, what are the essentials required to be a top notch marketer?
A successful marketer must understand the target audience, their consumption habits of the medium and how to reach out to them on a regular basis to help them make a buying decision. This is because ultimately every brand must yield a good ROI.
Your team received the opportunity to promote and launch the Madame Tussauds in Delhi. How did you feel about this and what were the preparations done to make it huge?
Madame Tussauds has been an iconic global attraction. Winning the mandate was synonymous with giving 'the Delhi attraction' a global approach.
An Innovative campaign using technology for an immersive experience to the users was our primary objective. Hence, we decided to make online influencers a part of the first mannequin challenge video at the time of media launch.
What goes in your mind while planning and developing campaign strategy for brands? How do you prepare yourself and other things to execute it perfectly?
First, the clients brief and second, logically predicting how users are going to consume the content we are planning to create for the brand.
Also, conceptualizing the best possible creative strategy for the same to complement the objective our brand wants to achieve.
Please share some of your campaigns. Amongst all your campaigns, which campaign delighted you the most and why?
Madame Tussauds launch event, as we were announcing the global brand entering the Indian market.
The Body Shop – Launch of their British Rose range.
Apollo Tyres two-wheeler tyre launch, in spite of being a non-entertaining category, our campaign was so powerful that it got a lot of eyeballs and traction online and was trending in India for couple of hours.
Bausch & Lomb – Don't be a Spectator Campaign, where we educated the users that they end up missing out precious moments of life while trying to fix their spectacles.
Is developing a career in digital marketing a good choice for students?
Yes, it is. Everything in today's world is moving to digital and people consume information on the go. Moreover, there are enormous opportunities in the digital domain from display, client servicing, execution, media planning & buying, creative strategy, copy, creative design.

What do you have to say to students who are aiming to fly high in this career?
One mantra: read, read & read, if you don't read what's happening around the globe you will not be able to widen your horizon.
What are the mantras to reach the peak of success in a career like digital marketing?
Craft an idea into a campaign only after putting yourself in the place of your target group to understand the instinct-rich micro-moments which touch their soul.
Blend your objective with consumer interests flawlessly to achieve the brand objective.
Give your own meaning to "peak of success" and you will make a mark in the industry in your own way.
What are your future plans?
I am here to stay at WATConsult and would like to see WATConsult expand to international locations. I would like to get more national and international brands on board.