Interview with Mr. Siddharth Behl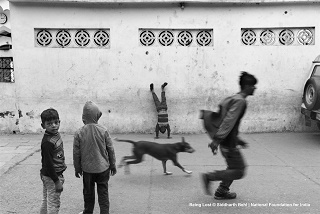 Being lost is something that I try to draw story out of street children about how they come from different states of India, especially in Delhi. I am talking about Delhi because I have shot so many pictures in Delhi. The whole story of was about how migration has affected the lives of the street children, mentally, emotionally and also about how they have been living a very gruesome condition and a scary condition, although they really matter.

'Being lost' portray a story about children, dealing with a life which is very difficult and hard to live. At times it is very surprising and very challenging for them. However, most of us, when we grow up we don't realize certain things that can affect us in future. This theme based photography is about how a child loses himself in the society and his own mental condition. The project is like an ongoing body of mine which I plan to continue trying to get more perspectives out of it.

What are the major points that inspire you to click pictures of street children?

I love children. They are beautiful, open minded and very frank with you. I have grown up in Delhi and have seen street children in Delhi. I have seen a lot of street children begging on the street.

The question has always been in my mind that what these children are doing on the street. Why are they doing this? Despite the fact that, some of them have the parents and some of them don't. I always wanted to shoot them but I never knew where to start, what to shoot and how to shoot.

And I just randomly thought that lets just find out these children and later in after my deep investigation and whole research and development behind it, I realized that these children are migrants. They are not from Delhi. They have run away from different states.

This is how I encountered this whole idea of being lost and that shows my interest in street children even grew more and I got a theme, a base to shoot on. That is how I started shooting street children in a much more focused manner.

Do you agree photography is a talent that can be inculcated in students?

Yes, photography is a talent that can be inculcated in students as a talent. I think it has to be realized by all the students. Not exactly inculcated because for some it might be a mode of talent, while for some it might be an art, some might even find it a little boring because you are physically taxing yourself and most of the children won't like that but photography is a beautiful expression.

It is the most expressive way of telling a story. Some people love writing, some love drawing, and that's where photography comes, it has both the things.

The famous quote "a photograph tells a thousand words" itself a beautiful thought. I would like to advise that for a student it is a talent based thing. To generate students' interest, the mentor should motivate them. The mentor should teach them that they can try and tell lots of things through their camera.

If you get a chance to change our education community where would you like to start from?

This would be witty enough, I would allow all the children to just run away from the class and do whatever they want to (Laugh). Honestly, our education system is not that bad, it has loopholes. There are certain things that need to be changed.

Children need to be focused right from the time they start their education and they should understand 'how and what does their syllabus mean to their future'. Teachers should also be a little more focused.

We have good teachers, excellent professors in our university and colleges. However, it becomes difficult for them to focus on individual children. As a whole education system, things should be clearer in the mind's of children, depending on what subject it is and what mode of teaching it is. What theory can't teach sometimes practical does?

During my school time I had, a lot of interest in history. However, I was, made to sit in the class and made to learn all the things. That time I used to think that why not if you visit all these places, you will learn it better. So, we should be given assignments in a way that we learn to explore ourselves. Like Indiana Jones or something. These things and teachers really matter in our education system.

How a teacher teaches and expresses their self really matters. So, all these things that I have missed I think can be inculcated in the Indian system of education in the future. It is already brilliant and just needs to be improved.

What are some tips/advices you would give to yourself if you started street photography all over again?

If I had to start all over again I would like to start with a good camera and would like to have a good mentor. After college I had an opportunity to work with Raghu Rai (the living legend of Indian photography). I had this opportunity to do my internship under him.

If I could have got a little more time with him, I could have done wonders in photography. So if I start photography again, I really need a good mentor.

Do you agree that a mentor is a right person who can guide students?

Yes, I agree that a good mentor is important for every child. Mentor Not only guides you to choose a right career but he motivates you to follow the right direction to achieve success. As I mentioned before, I think if I would have got a mentor at the very beginning of my career I might have achieved the success much earlier.