Student Article
/ Academic
India's Freedom Movement - The Angels Who Dared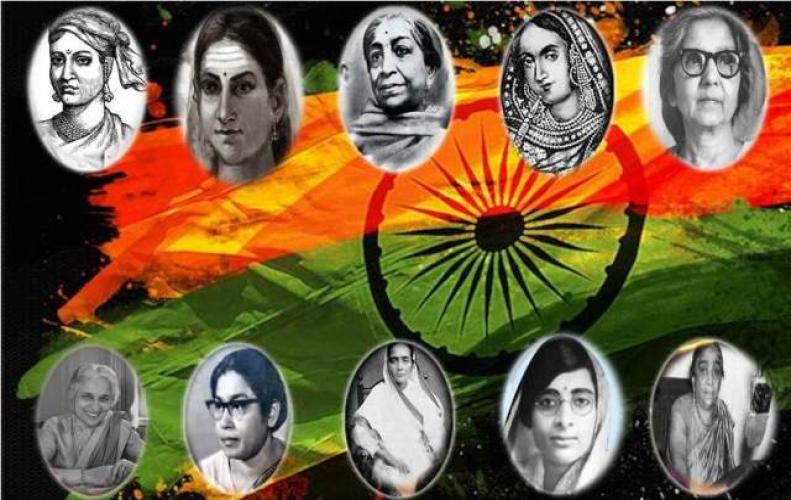 Madhuchanda Saxena
13 Aug, 2018
We are going to celebrate the 72nd Independence Day of Independent India on the 15th of August'2018.
We attained this freedom but for the sacrifice of thousands of known and unknown Indians who had sacrificed theirs so that we breathe freely. This struggle was not restricted to men but women willingly came out from the comfort of their shelters and with indomitable courage, endurance and determination stood their grounds and walked the path to freedom along with the men folk. We usually get to hear names of few women who have become synonyms with India's struggle for freedom and often hear about their sacrifice and triumphs. However, today let us take this opportunity to dig deeper into the realm of our freedom struggle and learn about many other unsung women who made such an impact on the freedom movement, their triumphs and as their ultimate homage, dedicated their lives for obtaining freedom of their beloved motherland.
Rani Velu Nachiyar: The Queen of Tamil Kingdom of Shivagangai, Rani Velu Nachiyar was the first queen to pick up arms against the British in the early 18th century even before Rani of Jhansi. She was well trained in martial art, horse riding and archery and could speak English, French and Urdu. She was married to the King of Sivagangai and had a daughter named Velachhi. The British invaded their kingdom and killed her husband. She managed to escape to Dindugal and formed alliances and took her kingdom back from the British Empire. She is believed to have the first person to come up with the idea of "suicide bombing" and her adopted daughter drenched in oil and clarified butter set fire to the ammunition store of the British and blew it up. She fought valiantly and took back her kingdom from the British thereby becoming the first queen to revolt against the British.
Uda Devi: She was born in a Dalit Family in a village in Awadh in Uttar Pradesh. At an early age she could sense the resentment of the people towards the British Administration. She requested Begum Hazrat Mahal to help her prepare an army for battle against the British. Begum Hazrat Mahal helped her form the women's battalion which she headed herself. She was one of the prominent "Dalit Veeranganas" who fought against the British East India Company. She spearheaded one of the fiercest battles in Lucknow and killed as many as 32 British soldiers before she herself was killed on the battlefield on the 16th of November, 1857.Though she died 150 years ago but her courage and bravery set an example for others to follow for India's struggle for freedom.
Azizan Bai: Kanpur played a major role in the revolt of 1857, when Nana Sahib appealed to both Hindus and the Muslims to unite against the British. Azizan Bai born in 1832 was the daughter of a courtesan. Her mother passed away when she a fairly young. She lived with a courtesan at Satrangi Mahal but later moved to Kanpur and lived with Umrao Begum at the Lurkee Mahil. Many sepoys who were part of the 2nd cavalry used to visit Azizan's place. She helped in gathering information about Britishers and passed them on to the freedom fighters. She had very close relation with Shamsuddin Khan a sepoy of the 2nd cavalry who played a very important part in the rebellion. Azizan learnt how to use arms and also taught other women. She used to dress up as a man and rode horses armed with pistols. She formed a group who would cheer for the men and also take care of the wounded. She took active part in collecting and distributing arms and ammunition to the soldiers. When the Wheeler's entrenchment was under siege she stayed back the entire time with the soldiers. She was also present when Nana Sahib raised the flag in Kanpur to celebrate the initial victory.
Kittur Rani Chennamma: One of the very first warrior queens of the country, Kittur Rani Chennamma dared to lead an army rebellion against the British East India Company in the year 1824. She was an accomplished sword fighter, an archer who was born in 1778 in Kingdom of Kittur located near Belgaum in Karnataka. Married to Raja Mallasarja Desai at a tender age of 15 she had a son with him. However, in 1816 her husband passed away and her son too died and the responsibility to save her kingdom from the British fell on her shoulders. Like Rani Laksmi Bai, after the death of her husband and son she adopted a boy Shivalingappa and made him her successor which did not go well with the British East India Company. She wasn't one to be deterred and fought the British when they attacked Kittur. The British Army was defeated and two of their soldiers taken hostage. However, few members of her army betrayed her when British attacked Kittur for the second time and she was captured and imprisoned for life at Baihongal Fort. She passed away in Baihongal fort on 21st February 1829. Her courage to fight the Britishers encouraged other freedom fighters to fight against the Britishers.
Maharani Jind Kaur: Wife of Ranjit Singh, the first Maharaja of the Sikh Empire. Her son Duleep Singh also happens to be the last Maharaja of the Sikh Dynasty. Maharani Jind was a force to reckon with and she instilled deep fears in the hearts of the British rulers so much that they had described her as the "Messalina of Punjab". Jind Kaur came from humble beginning; her father was an overseer of the royal Kennels. Jind Kaur's beauty caught the eyes of Maharaja Ranjit Singh who had her summoned to the court and married her. The Maharaja's Empire started to crumble after his demise in 1839. The British tried to snatch it away from her and her infant son Duleep Singh. She then became the regent for her son and took over as the ruler of the Sikh Dynasty. She was an able administrator. During her time she was the most powerful woman in Northern India. In 1845, Governor General Sir Henry Hardinge issued a proclamation declaring war on the Sikhs. Kaur sent her army but lost the war. Amidst all adversities Jind Kaur she tried to take control and was a major obstacle for the British. Fearing an uprising against the British they separated Duleep Singh from Jind Kaur and sent him to England. She was dragged by her hair from the court of Lahore and confined in the fortress of Sheikpura and then The Chunar Fort in Uttar Pradesh. She managed to escape from there to Nepal in disguise of a Servant in 1849. She could not regain control over her kingdom but was reunited with her son after several years.
Begum Hazrat Mahal: Begum Hazrat Mahal was a courtesan and was sold off to the royal agents none other than her own parents. She was the second wife of Nawab Wajid Ali Shah. She was also known as the Begum of Awadh and was one of the earliest female freedom fighters. In 1856, the British East India Company annexed the territory of Awadh, begum Hazrat Mahal requested the King to resist and not step down. However, the King gave up the kingdom and was sent into exile to Calcutta. However, Begum Hazrat was not the one to give up and she decided to take charge and take her kingdom back from the British. With help from her associates she fought the British fearlessly and took control of Lucknow back into her hands. She then crowned her son Birjis Qadar as the King of Awadh. She was one of the most iconic leaders of freedom movement that ignited in the 1857.She fought valiantly alongside other Indian revolutionaries.
Sarala Devi Choudhurani: Born in Kolkata in the year 1872 into an illustrious Bengali Family, whose father Janakinath Ghosal was one of the earliest secretaries of the Bengal Congress. Sarala Devi's mother Swarnakumari Devi was the elder sister of Rabindranath Tagore and an accomplished female novelist of Bengali Literature. Sarala Devi in those days was a Graduate in English literature from Calcutta University and had received the Padmavati Gold medal. She was not just a nationalist but a prolific writer, a great singer, a politician and a true feminist. She took it upon her to work towards women empowerment. She actively helped her husband in editing a powerful Urdu Weekly newspaper "Hindustan" and also went ahead to publish an English edition of the newspaper.
After 100 years of revolution, bloodshed, struggles, satyagrahas and sacrifices by many unsung women of this country we attained independence from the British rule on 15th of August'1947. Women across all religion had participated in the struggle for independence. Women had then shouldered critical responsibilities in India's struggle for freedom. They boycotted British goods, spearheaded meetings, promoted khadi, bravely faced atrocities meted out by the British forces, and went to jail, with just one sole "Mantra", Freedom of our country at any cost. Let us remember those souls with reverence and gratitude as we walk today with our head held high.
As Tagore had immortalized those golden words "Into That Heaven of Freedom My Father, Let my Country Awake".