Student Article
/ Academic
Lal Bahadur Shastri: The Unforgettable Hero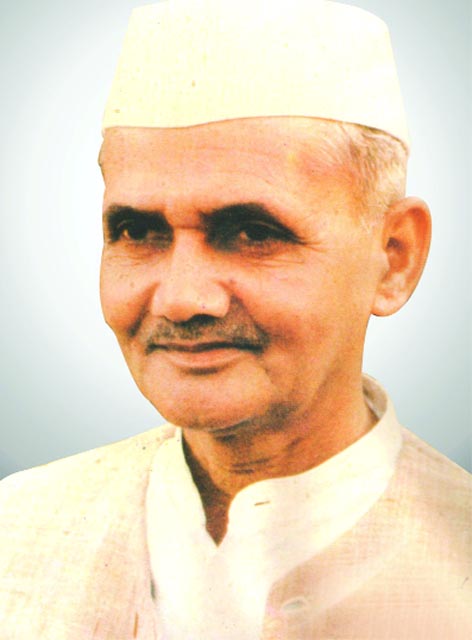 Madhuchanda Saxena
29 Sep, 2018
When we hear the name Lal Bahadur Shastri, instantly the picture that comes into mind is that of a small frail stature and a soft spoken personality. However, needless to say behind that facade was a man of exceptional will power and steely resolve. A person who wished that he should be remembered for his work rather than any well rehearsed speech proclaiming great promises.
Born on the 2nd of October, 1904, Lal Bahadur Shastri was son of Ramdulari Devi and Sharada Prasad Srivastava in Mughalsarai. Incidentally, he shares his birthday with none other than the father of the Nation. His father Sharada Prasad Srivastava was a school teacher by profession however; as fate would have it he passed away when Lal Bahadur Shastri was barely two years of age. Shastri grew up along with his two sisters at their maternal grandfather, Hazarilal's place in Mirzapur. He completed his primary education in Mirzapur and thereafter moved to Varanasi to stay with his maternal uncle and complete his studies. However, the stories and speeches of the national leaders at that time had a deep impact on young Lal Bahadur's mind. In 1915, a speech of Mahatma Gandhi completely changed the course of his life. He became actively involved in India's struggle for freedom movement, to the point where he even compromised his studies. In 1921, during the non –cooperation movement young Lal Bahadur was arrested while participating in a demonstration, however being a minor then he was released. In 1930 he became the secretary of the local unit of the Congress party and later went to become the president of the Allahabad Congress Committee. He played a very crucial role during Gandhiji's Salt Satyagraha. He was elected to the UP Legislative Assembly in 1937. He was one amongst the many prominent leaders who were imprisoned by the British Government in 1942. Lal Bahadur Shastri had a passion for reading and during his long stint in the prison he spent his time reading about social reformers and western philosophers.
Lal Bahadur Shastri was a person of small stature but he was a very bold, adventurous, patient, benevolent and selfless person. He was also against many prevailing social evils like dowry system. When he got married to Lalita Devi, he refused to accept any dowry. However, when his father in law insisted he agreed to accept only 5 yards of khadi cloth.
Post Independence Lal Bahadur served in various positions like Minister of Police in Uttar Pradesh. Jawaharlal Nehru invited Shastri to join the Union Cabinet as Minister of Railways. In 1956, he resigned from his post as a Minister of Railways after a train accident in Ariyalur in Tamil Nadu that killed 150 passengers. He also worked on reforming the state Police department while he was the minister for Police. He insisted that "water jets" be used instead of lathis to disperse any unruly mob. He was famously known for his moral and ethics.
In 1961, he was appointed as the Minister for Home Affairs in 1961. During this time Jawaharlal's health deteriorated and Shastri was appointed minister without a portfolio. However, after Jawaharlal Nehru's death in 1964 Lal Bahadur Shastri was appointed as the Prime Minister of India. Even though at that time there were several influential leaders but Lal Bahadur Shastri emerged as a consensus candidate after the sudden demise of Nehru. Lal Bahadur displayed great restrain and patience in dire situations.
In the year of 1965, signs of food shortage started showing up. Lal Bahadur Shastri gave it the top most priority and took immediate steps to create awareness amongst people to save food and appealed to the farmers to increase the output by growing more than one crop an year. He urged people to clean up their backyards and start growing their own vegetables. Those were very trying times and newspapers were running campaign that read "Today is a dinnerless day", urging people to skip a meal. Lal Bahadur Shastri gave utmost importance to the farmers as these farmers were the real soldiers who could save the country from the food shortages that plagued India during those years. Shastri started lot of initiatives to curb the acute food shortage, which included getting help from the US which had predicted that India was heading towards such a catastrophe. His constant endeavor led our country towards the "Green Revolution". His slogan "Jai Jawan, Jai Kisaan" reverberated through the entire nation.
Lal Bahadur Shastri was not just responsible for the green revolution but was instrumental in starting the White revolution. On the 31st of October 1964, Lal Bahadur Shastri visited Anand for the inauguration of the Cattle Feed Factory of Amul at Kanjari. He was very keen to learn how this cooperative achieved success and spend a complete night with the farmers in the village and over dinner with the farmers he expressed his wish to Mr. Verghese Kurien , the then General Manager Amul, Kaira , to replicate this model for other parts of the country so that it improves the socio-economic conditions of farmers across the country. The result of this was the establishment of the National Diary Development Board in Anand in the year 1965 and by the year 1970 the Dairy Development Programme for India was launched popularly known as Operation Flood.
During the British rule, Tamil people from Tamil Nadu were recruited to work in the tea, coffee and coconut plantations in Srilanka. However, due to continuous recruitment the Tamil population of nonresident Tamil population of Srilanka rose significantly to 15.3 percent of the total population of Srilanka in 1936. The Sinhalese resented this growth and wanted them to be sent back to India. The Sinhalese Government introduced the Ceylon Citizenship Bill and in 1948 provided citizenship to 5000 Indian Tamils. However, almost seven lakh people were either non citizen of Srilanka or rendered stateless. The Sirima–Shastri Pact or Srimavo-Shastri Pact was signed between Lal Bahadur Shastri and Sirimavo Bandaranaike on the 30th of October, 1964. The main part of the pact was to grant three lakh of Indian Tamil, Sri Lankan citizenship and more than 5 lakhs to be repatriated to India.
Almost a similar story unfolded in Burma now Myanmar. During the British rule many Indians arrived in Burma. They worked as civil servants, engineers, soldiers, river pilots, indentured laborers and traders. However, after the First World War, due to the rise in Indian population Anti-Indian sentiments began to rise. In 1962, General Ne Win seized power through a military coup and ordered large scale expulsions of Indians. The Indians fled Burma as they had become a soft target for discrimination and oppression by the junta. Lal Bahadur Shastri asked the local governments to provide assistance and support the repatriates who were returning back from Burma. India's relation with Burma was very strained following the coup. However, Lal Bahadur Shastri in December 1965 made an official visit to Burma and re-established a cordial relationship with the country's military government of General Ne Win.
In the year 1965, Pakistan designed an operation named Operation Gibraltar, to infiltrate forces into Jammu and Kashmir and precipitate insurgency against the Indian rule. Indian Army retaliated with a full- scale military attack on West Pakistan. The War went on for 17 days with thousands of casualties on each side. It was also a battle that witnessed the largest engagement of armored vehicles and largest tank battle since World War 11. The war stopped between India and Pakistan after the Soviet Union mediated and United Nations mandated a cease fire. The war ended on the 23rd of September, 1965.
After the declaration of ceasefire with Pakistan in 1965, an accord was signed between Lal Bahadur Shastri and Pakistan's President Ayub Khan, and this agreement was mediated by Soviet Premier Aleksey Kosigin, who had invited both the parties to Tashkent. It was agreed upon by both parties to withdraw all armed forces, to restore diplomatic relations and to discuss economic, refugee and other questions.
Lal Bahadur Shastri worked on nurturing bilateral ties with other countries. During his tenure as the Prime Minister he visited several countries like Soviet Union, Nepal, Yugoslavia, England, Canada, Egypt and Burma.
Unfortunately Lal Bahadur Shastri died following a heart attack the very next day after he had signed the Tashkent Declaration. He was the first Prime Minister of India to die while out of the country. His sudden death also sparked many conspiracy theories. His family believes that he actually did not die due to a heart attack but was poisoned.
Lal Bahadur Shastri was known for his honesty and humility, his selflessness and dedication towards serving the country. He was the first person to be awarded the Bharat 'Ratna, posthumously. Vijay Ghat in Delhi was built in his memory. He will always remain in the heart of the Indian people.